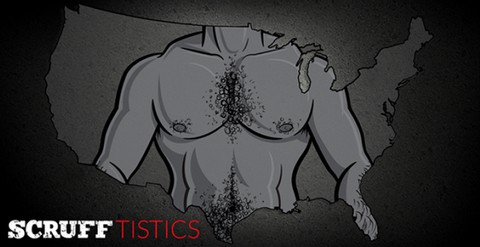 As part of a new installment on its blog called "SCRUFFtistics" gay dating app SCRUFF took an "in-FUR-mative" look at the state of manscaping in America, attempting to determine where in the U.S. guys like it hairy and where smooth is in. The results?
"Cold winter days, and warm wet summers – those who live in environments like this appear to be suited for it. For example, winter in Vermont sure can be brutal, so we hope that it's rank as the hairiest state proves beneficial in warming up the fellas there. Hawaii, you seem to be as smooth as the surfers who ride your rough waves."
Indeed, individuals in colder climates did on average tend to favor letting the hair grow, with Maine, Oregon, New Hampshire, and West Virginia being the hairiest. On the other hand, warmer climates see more smooth-bodied men, as the below map indicates. Yet there were a few outliers: while Hawaii, Puerto Rico and Nevada were the top 3 "smoothest" states, they were followed quickly by Alaska and South Dakota. "What's that about?" Scruff wonders.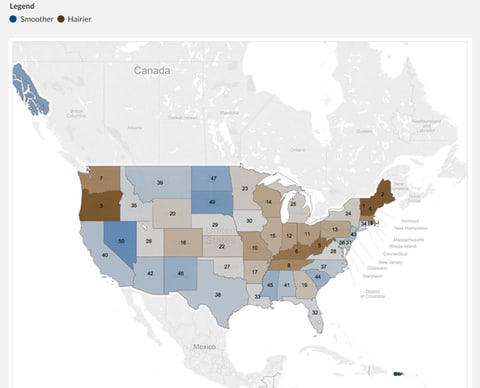 As for cities, Everett, WA, Evansville, IN, Portland, OR, Manchester, NH and Alexandria, VA saw the most down. Whereas Fayetteville, NC, North Las Vegas, NV, Murrieta, GA, Elk Grove, CA and Temecula, CA prefer to keep things more manicured.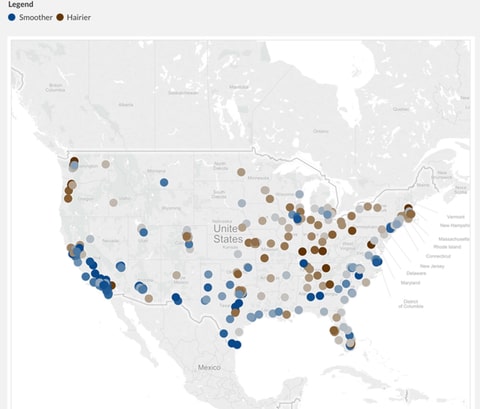 Check out the full results here.