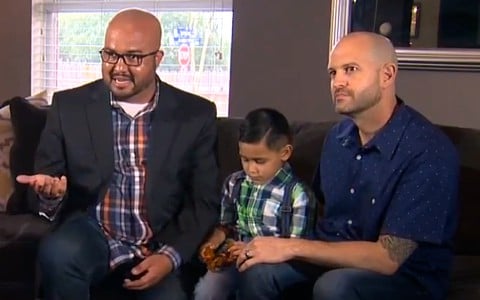 Earlier this month, we told you how a church in Florida had agreed to allow a gay couple's child to be baptized after initially turning them away, igniting a weeklong national firestorm.
Apparently, a church in Austin, Texas wanted to avoid a similar controversy.
Rich Jones and Adrian Mertz have both attended Shoreline Church since before they were married last year. They've continued to attend with their 4-year-old adopted son, Santino, and say they've been welcomed. 
But when Jones and Mertz requested to hold a dedication ceremony for Santino at the church, they were told it would have to be in a side chapel rather than the main sanctuary. The topic of homosexuality was too sensitive, church officials said, and the congregation wasn't ready to deal with it. 
However, after a reporter from a local TV station contacted the church about turning away Jones and Mertz, officials quickly changed their mind. 
From KVUE-TV: 
The congregation issued this statement:

"We are deeply sorry for the pain we have caused the Mertz family regarding the dedication of their child to God. We understand how our attempt to make a reasonable accommodation was misguided and hurtful. It is our intent to uphold human dignity, and in this regard we have failed. We are reaching out to the family to invite them to our next baby dedication."

Mertz and Jones were beside themselves with joy upon receiving the news. … 

"Honestly I am just so happy and glad that we stepped out on faith. We've come to realize in order to expect change, you have to be part of the change and this just shed light on what Shoreline is really all about," said Mertz.
Santino's dedication is now set for June in the main chapel with all the other children. 
Watch KVUE-TV's report, AFTER THE JUMP …