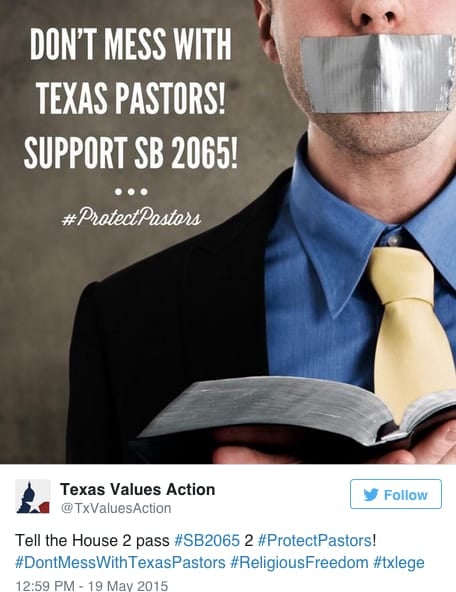 The Texas House is expected to vote today on a so-called "Pastor Protection Act" championed by anti-LGBT hate groups. Senate Bill 2065, which has already cleared the Senate, is almost certain to pass, and Gov. Greg Abbott has said he'll sign it. 
The bill would protect pastors and churches from being forced to participate in same-sex weddings. Of course, pastors and churches already enjoy those protections under the First Amendment, but LGBT advocates say the Texas bill is written too broadly and could be used by pastors who also serve as government employees as a basis for discriminating against same-sex couples. 
Pro-LGBT groups are also warning that Republicans could attempt to amend the "Pastor Protection Act" with other anti-gay legislation. The Texas Freedom Network wrote Wednesday:
"We're down to just 12 days left in the 2015 legislative session, and attacks on LGBT equality are becoming increasingly desperate. Rumors are swirling about potential amendments to SB 2065, which is scheduled for debate by the House tomorrow.

"This could be the last gasp for mean-spirited legislation like [Rep.] Cecil Bell's 'Defy the Supreme Court' effort to block marriage equality in Texas, or [Rep.] Scott Sanford's proposal to permit discrimination against LGBT families in the adoption and foster care system. Either of those previously dead bills could rise tomorrow as an amendment."
Bell told The Texas Observer he doesn't intend to introduce his anti-gay marriage legislation as an amendment to the Pastor Protection Act, because such a move could jeopardize the whole bill: 
"A lot of work's been done on that bill, and I don't want to compromise that bill," Bell said. "The intent is to assert the sovereignty of the state of Texas. If I can find a place to do that, then I'll do that. But I'm not going to compromise the very structure and value system that I'm trying to affirm in that process."
Eighty-seven of the House's 150 members were co-authors of an identical bill, so the Pastor Protection Act should easily pass. 
Even though it accomplishes virtually nothing, the bill is being championed by anti-LGBT groups including Texas Values and the Texas Pastor Council, which have latched onto it because none of their other legislation is moving. 
From the Observer: 
Supporters of SB 2065 have used committee hearings on the bill to give general testimony in opposition to same-sex marriage, which some witnesses compared to bestiality and pedophilia.

"It suggests that really the goal here to increase hostility and animosity toward gay and lesbian couples who want to get married, rather than to protect pastors from having to perform their marriages, because pastors are already protected from doing that if they don't want to," Texas Freedom Network spokesman Dan Quinn said.

Nevertheless, if SB 2065 is the only unfavorable measure that passes out of more than 20 anti-LGBT proposals that were introduced, advocates won't hang their heads.

"It's certainly encouraging that some of the really bad bills appear to be going nowhere, and that the only bill that's moving forward does essentially what the law already does," Quinn said. "If we can get out of the session without any of those other bills passing, it would clearly be a big step forward."