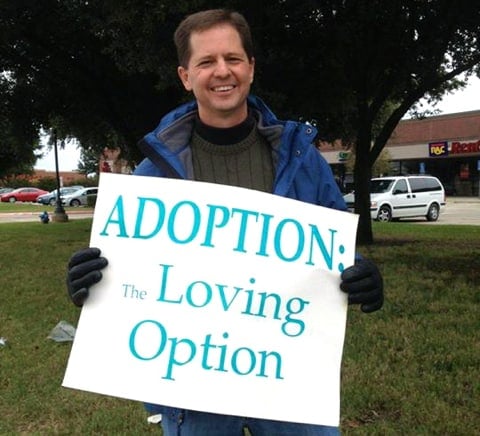 On Monday we told you how the Texas House is about to vote on a bill seeking to undermine a U.S. Supreme Court ruling in favor of same-sex marriage. The vote on the anti-gay marriage bill is now expected to take place Wednesday or Thursday. 
Meanwhile, the House is also now scheduled to consider an anti-LGBT, "license to discriminate" adoption amendment. The amendment is designed to allow taxpayer-funded, faith-based adoption agencies such as Catholic Charities to turn away gay couples based on their religious beliefs. It is similar to a bill that was defeated in Florida last month. 
Texas GOP state Rep. Scott Sanford (above), executive pastor of a large Southern Baptist congregation, introduced the anti-gay adoption amendment after his identical bill — which we reported on last month — failed to be scheduled for a House floor vote. The amendment is scheduled to be considered by the House on Wednesday.   
The Texas Freedom Network, Equality Texas and the ACLU of Texas said in a release Tuesday: 
If enacted into law, Rep. Sanford's amendment would allow child welfare providers to discriminate against not just gay and transgender families seeking to provide loving homes for children who need them, but also against people of other faiths, interfaith couples and anyone else to whom a provider objects for religious reasons. This would seriously weaken the state's child welfare system by further shrinking the pool of qualified parents who can provide a safe, loving home for children.

Moreover, the amendment would expose minors to potential harm, even allowing child welfare service providers to force gay and transgender minors into abusive and discredited reparative "therapy" programs to change their sexual orientation or gender identity. In fact, the state would potentially have no recourse to act to protect such children from that harm.

Let's be clear: this amendment puts a political agenda and personal beliefs ahead of the interests of children in the state's welfare system, many of whom have come into that system because of abuse and neglect. Decisions about the placement of those children in safe, loving homes should be based on their needs and on the ability of families to meet those needs, not the religious or moral objections of the agencies with which the state has contracted to provide those services.
Earlier this month, the Human Rights Campaign issued a release in which major child advocacy groups came out against Sanford's adoption bill: 
In a letter to Texas lawmakers, the Donaldson Adoption Institute (DAI), Voice for Adoption (VFA), and North American Council on Adoptable Children (NACAC) blasted the legislation that would empower adoption agencies to discriminate against eligible parents and guardians. If passed, the discriminatory bill would deny countless children access to caring homes. It could also prevent eligible interfaith couples, same-sex couples, and couples where one individual was previously divorced, the opportunity to care for a child in need.

"We urge you to examine the research that demonstrates if we truly wish to act in good conscience towards children waiting for permanent families, we must not exclude qualified and eager prospective foster and adoptive parents," the letter states. "Foster and adoptive parent applicants should be judged based on their qualifications, not their sexual orientation or gender identity. Enshrining discrimination into law, on the other hand, will undermine the safety and well-being of Texas' children."

"This is tantamount to taxpayer-funded discrimination, as many of the state's private adoption agencies have large public contracts," said Ellen Kahn, director of HRC's Children, Youth and Families Program. "We call on Texas legislators to choose the best interests of the child over discrimination, and abandon this bill aimed at hurting Texans who wish to provide caring homes for children."