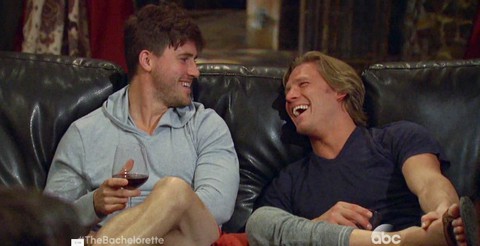 ABC's The Bachelorette has released a promo for next week's episode that suggests one of the male contestants vying for Bachelorette Kaitlyn's attention has fallen in love with one of the other male bachelors.
In the promo, contestant Clint says, "Falling in love with a man never crossed my mind…Kaitlyn's not the right girl for me…I love JJ, so I need the rose tonight." He also adds, "We've gotten very close in the shower." Capitalizing on whatever's going on in the Bachelorette house, ABC's official teaser declares, "This Brokeback Bachelor will blow your mind."
It's a Bachelorette—and Bachelor—first: one of Kaitlyn's suitors has seemingly fallen in love with one of the other guys and we are kind of shocked…Now, we're not shocked at a man falling in love with another man. It's 2015, sexuality is a spectrum, and when you throw a bunch of people in a house together, anything can happen. What shocked us about this confession from Clint was the object of his affection: JJ! 
Just last night, JJ was called a "turd" by Amy Schumer, and proved to all of the men in the house that he didn't care about kindness or fairness when it came to stealing time with Kaitlyn.
As for whether there is any merit to ABC's claims of a 'Brokeback Bachelor', only time will tell.
Watch the promo and decide for yourself whether this man-on-man romance looks real or 'reality' (warning: auto play), AFTER THE JUMP…