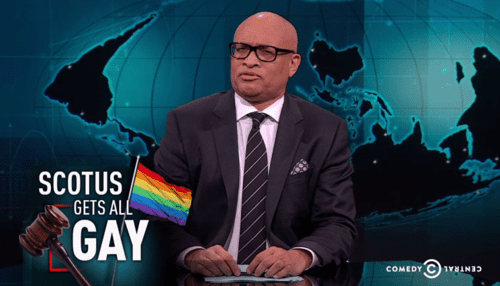 Thursday's episode of The Nightly Show spotlighted the Supreme Court's gay marriage hearing from earlier this week, with host Larry Wilmore looking at the sexual discrimination argument as well as one of the more insane anti-gay arguments claiming marriage equality will directly lead to 900,000 new abortions.
"Here's the problem when people who don't believe in science try to do math," Wilmore quipped before pulling out his "Conservative Calculator" to see how right-wingers were able to come up with that exact, absurd figure.
Later in the episode, Wilmore brought out his panel Brad Garrett, Dana Perino, and Lewis Black to review some of the many calamities of the past that were blamed on the gays and to predict what future disasters might be in store for our country. 
Watch, AFTER THE JUMP…