This weekly travel column is brought to you by ManAboutWorld, an immersive digital gay travel magazine for iOS and Android devices from Billy Kolber, Ed Salvato, Kenny Porpora, and nearly 75 Global Correspondents.
Berlin's been on the receiving end of some backlash as of late. Having been the reigning king of cool for so long, it's now even trendier to lash out against it, to claim Berlin is 'over' and to declare a dozen or so burgeoning the cities "the new Berlin!" But these headlines are mostly unfounded, and while we suspect travelers have grown bored and weary with media's constant and sometimes hyperbolic praise of Berlin, they've not yet grown tired of the city itself. Step one foot in Berlin and it's still every bit abuzz and edgy as it ever was. And we have a couple reasons why it might be time to check it out.
The first is Berlin Gay Pride (known locally as Christopher Street Day) takes place June 21-27, with festivities and events spread over the week.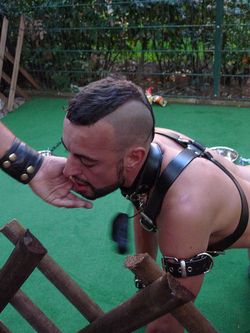 The other is a bit more hardcore: Folsom Europe the world's biggest leather party (September 12-13). This two-day celebration of kink and fetishistic debauchery, where anything goes and nothing shocks, is a crowded, sweaty, festival of whips and chains, furries and slaves, collars and ball-gags, daddies and maids. And if that weren't enough, it's being held for the 12th year in Berlin, full of Germans who always manage to make any sexual act that much dirtier. So break out the nipple clamps and Gun Oil, because things are about to get messy.
 Here are our top 5 things we're loving in Berlin this spring.
1. Hotel 25 Hours: This new design boutique (think urban jungle chic) in the heart of Charlottenburg is a short walk to Schöeneberg. Judging by the hotel's 'Do Not Disturb' signs that read 'Please place aspirin in front of the door and leave,' (along with 24 other options) they seem ready for the many hangovers that await them. The property has small but chic rooms, and has become one of the city's best lifestyle hotels.
2. La Mano Verde: There's currywurst on every corner in Berlin, so we wanted to steer you toward a new trend we've come to notice in this city that's full of them: Berlin has recently become the vegan capital of Europe. And La Mano Verde is the original, serving an extraordinary vegan menu within walking distance to Schöeneberg. Their spaghetti de la mer is a must. 
3. Schwuz: This gay club is in a former beer beer factory at Rollbergstraße 26, and one of the nicest gay places to hang out in in Berlin. The crowd tends to be on the younger side. Ivery Friday is a themed night. 
4. Tiergarten: If it's a warm and sunny day, the grassy knolls of the Tiergarten are Berlin's sunbathing and cruising spot. Walk or bike up Hofjägeralle from Mitte towards the famed Victory statue column, and then take the first left trail into the woods before the column. Meander at a 45 degree angle into the park, heading towards the Lion Bridge. You'll find gays spread in two areas, one predominantly clothed and one delightfully naked (well, delight is in the eye of the beholder). Cruising happens around the bridge by day and near the table tennis courts by night. Watch your wallet! See the Discodamaged.net Google Map for precise locations.
5. Schwules Museum: For anybody with even a passing interest in LGBT history, the Schwule Museum which moved to Lützowstraße 73 in Mitte should definitely feature on their itinerary. Literally translating to "Gay Museum," it is dedicated to preserving and celebrating all aspects of LGBT life through a variety of exhibitions, lectures and workshops hosted during the year. Its permanent exhibition is dedicated to 200 years of gay culture, while temporary exhibits honor gay icons such as Oscar Wilde and Marlene Dietrich.
For even more insider recommendations in Berlin for other destinations around the globe and in the U.S., get ManAboutWorld Magazine on iTunes (iOS) or Google Play (Android). 
And ManAboutWorld is now on the iPhone! Android coming soon. To download for the iPhone, click HERE.
Image credits: Top: Fabiana; Right: Lilas59; Bottom (Berlin Wall in the Newseum in Washington DC): John Pastor.