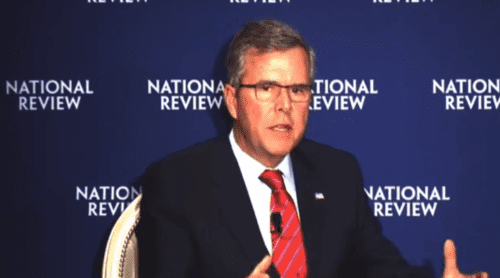 Jeb Bush wants your vote, especially if you're a Christian who is deeply concerned same-sex marriage may soon completely erode the First Amendment's freedom of religion.
Pointing to Tuesday's Supreme Court oral arguments while at a forum hosted by the National Review yesterday, likely GOP presidential candidate Jeb Bush echoed Justice Antonin Scalia's fears that clergy may soon be forced to perform same-sex weddings if the Supreme Court rules for marriage equality (a claim that Matt Baume has already thoroughly debunked)
Added Bush:
"We need to get to a place where government is not going to discriminate against people because of their sexual orientation and at the same time make sure that there is ample space for people not just to have a religious view or just to be religious but to actually act on their religious view. Conscious is what we need to protect and I fear we're not finding that balance right now…"
Watch, AFTER THE JUMP…