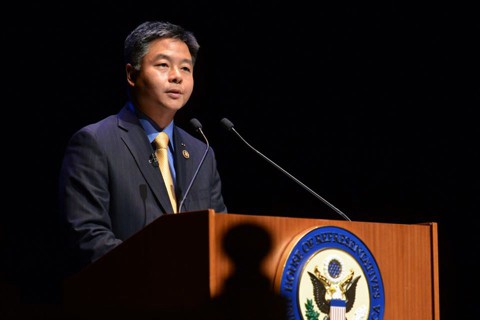 LGBT conversion therapy would be considered fraud and outlawed in all 50 states through the Federal Trade Commission under a proposal introduced by a California Democrat on Tuesday. 
As a member of the California Legislature, U.S. Rep. Ted Lieu authored the Golden State's ban on conversion therapy to change people's sexual orientation. However, his federal "Therapeutic Fraud Prevention Act" would go further than the California law, applying to people of all ages and not just those under 18. The proposal would also explicitly prohibit therapy to change people's gender identity, an idea that has gained momentum in the wake of the death of Leelah Alcorn.  
BuzzFeed News reports: 
"The public views conversion therapy as quackery, as something that harms people," Lieu told BuzzFeed News on Monday afternoon, just after landing back in D.C. from California. "Eventually, I believe Congress will catch up to that, but you do need to start somewhere, so that's why we're introducing this legislation."

He faces an uphill battle: The legislation, which would label conversion therapy an "unfair or deceptive act or practice" that would be illegal under the Federal Trade Commission Act, is being introduced with less than three dozen co-sponsors — all of whom are Democrats.

Lieu does, however, have a powerful ally in his effort. Minority Leader Nancy Pelosi has signed on as an original co-sponsor of the bill.
California, New Jersey, Oregon and Washington, D.C. are the only jurisdictions that have passed laws banning conversion therapy, but only for minors. Earlier this year, President Barack Obama came out in support of banning the discredited practice. 
David Stacy, government affairs director for the Human Rights Campaign, said the following of Lieu's bill: 
"This vitally important legislation has the potential to save countless lives across this country by helping to end a practice that uses fear and shame to tell LGBT people the only way to find love or acceptance is to change the very nature of who they are. We're proud to work alongside Congressman Lieu and our partners to send a different message – a message of hope, acceptance, and love where such a demeaning and destructive practice isn't promoted as useful therapy. Ending this harmful profit-making practice is something that all of Congress should be able to rally behind."