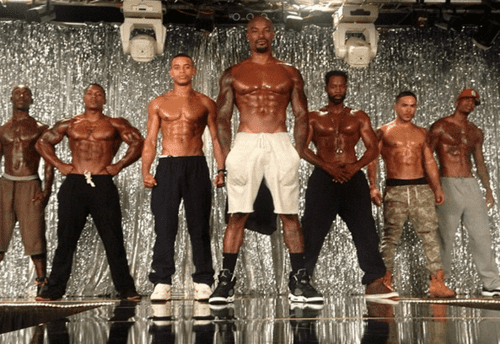 Tyson Beckford headlines at Chocolate City's club
So ballsy: CHOCOLATE CITY, a black rip-off of Magic Mike, actually name checks Steven Soderbergh's Magic Mike (2012) twice — once in its opening scene even! — and names it lead character Mike. In one conversation its strippers even dismiss Magic Mike for being 'only a movie' as if they're authentic strippers in a documentary.
Not ballsy enough: Chocolate City has zero actors as brave as Matthew McConaughey what with his g-string ass up to the camera writhing and no actors as nonchalantly nude as Channing Tatum doing that birthday suit bathroom strut. If you're aiming for an even cheaper riff on one of the great low budget success stories of recent cinema (Magic Mike grossed 24 times its meager budget globally; hits are generally lucky to quadruple their budgets) shouldn't you exploit what your mama gave you?
B movies throughout time have been energized by their trashier instincts. Not so much this one. This Mike (super cute Robert Ri'Chard) is practically a saint though he goes by "Sexy Chocolate" on stage. He doesn't joke about getting girls mouths pregnant. He doesn't sleep with his clients. He doesn't have drug dealer friends. He's a reliable employee even when treated poorly. Most importantly, he's a doting son to his hard-working religious mother (Vivica A Fox). After a bit of 'what will people think?' protesting he takes instantly to his new profession. He's barely a bar into his first song when he becomes a horny A+ stripper that looks like he's been doing it for years. So where's the conflict? Movies need 'em.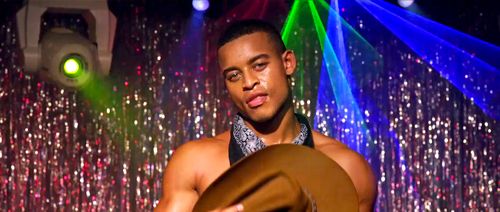 MORE AFTER THE JUMP…
Where's the stripping? Stripper movies need it. (Showers of cash on glistening chests don't count.)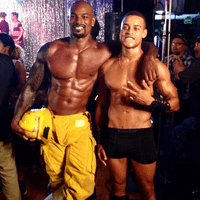 Perhaps Chocolate City's weird reluctance about its raison d'etre lies at the pulpit of its writer/director/producer/everything Jean-Claude La Marre who casts himself in a rather scene-stealing role as Mike's pastor, "Pastor Jones" (a role he has apparently played in multiple films). I confess that I hadn't heard of him but he turns out to have a rather robust filmography though you wouldn't know it from the filmmaking which screams first-timer with continuity errors galore, dropped story threads (even one for his own character), and straight up bizarre editing/pacing choices. Chocolate City is La Marre's 14th directorial feature in as many years but judging by the haste with which it appears to have been assembled — at the press screening which doubled as the premiere I suspect the print was a wet as the audienceHAAAY — it's surprising that it's not his 140th.
Have you ever wanted to love a movie that just wasn't cooperating with you? Fact: the idea for Chocolate City is genius. And the club's two star attractions Tyson Beckford as "Rude Boy" and Robert Ri'Chard as "Sexy Chocolate" are both exceptionally easy on the eyes (even if their plot-enforced rivalry is hard on the brain). May we please have a Magic Mike ripoff in every ethnic flavor… or better yet in every ethnicity and in every body-type preference?
Great ideas are the starting point. It's what you do with them that counts.
Most importantly, should your movie idea be set in the real world it's important to have lived there or at least visited. Chocolate City appears to have been made by people who've never been to a strip club, a hospital, or a bank: the movie's frankly alien perception of money is its secret weapon in unintentional hilarity and perhaps the best reason to give it some of yours (available in select cities now and also for download). At one point in the movie Mike is grievously injured and his boss pays his medical bills in their entirety because they've made 'so much money off of him' this despite a detailed scene earlier in which he learns that the club's portion of his nightly haul is only $50 and we know he just started working there! That won't even cover the ambulance bill, dummy. But then the boss is hardly the only person onscreen who has no clue. Money pours from the ceiling like confetti at the strip club, patrons fan huge wads of it in their hand like there's an endless supply and then they hurl it wildly at the strippers, no matter how far they are from them in the room and whether or not the stripper has ever looked at them. In one of the movie's meant-to-be-serious scenes when an unexpected visitor learns what Mike does for a living, we see that this money as confetti epidemic is worse they we feared. Not only do the patrons throw huge wads of cash at the stage indiscriminately and constantly, they throw it around the general bar, too, whenever a stripper so much as walks within yards of them. Yet no one ever pounces at the hundreds strewn about the floor like they would if they were contestants on a game show rather than extras on a movie set. There are literally two shots in the entire film of anyone picking up any of the money and only one of them is a dancer — usually the dancers just exit the stage, leaving all the cash behind. It's enough to make you weep if you've ever struggled to pay a bill but good for a huge laugh if you've ever tipped a stripper, sexy chocolate or otherwise.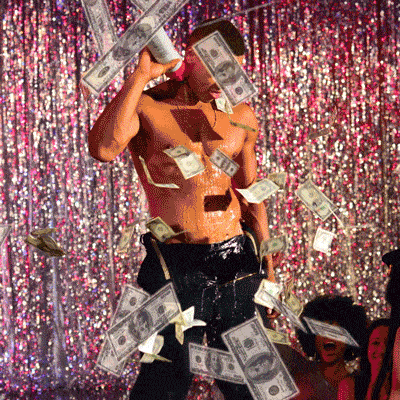 HAPPY MEMORIAL DAY WEEKEND
Here are your other newish moviegoing choices



TOMORROWLAND (new) starring George Clooney, newcomer Britt Robertson, and plentiful visual effects. Mixed reviews from critics.

 POLTERGEIST (new) a remake of the 80s horror classic. Just rent the original, say critics.

 PITCH PERFECT 2 (2nd week) is good fun. Sloppy seconds sure, but it gets the job done. And Flula Borg, so funny on YouTube, is wonderful as an intimidating German singer

 MAD MAX FURY ROAD (2nd week) is flat out insane. And insanely good. Puts most other action blockbusters to shame in terms of energy, inventiveness, tension, and spectacle. Bonus points: continues the outlandish Mad Max tradition of memorably wacky character names; Charlize Theron owns the movie as "Imperator Furosa" Extra Bonus Points: The plot's feminist trajectory is making a lot of woman-hating straight men very uncomfortable.

 GOOD KILL (expanding) Ethan Hawke reunites with his Gattaca director for this war drama

 SAINT LAURENT (expanding, capsule review) racy French biopic of the iconic fashion designer w/ Gaspard Ulliel and Louis Garrell

 FAR FROM THE MADDING CROWD (expanding) Carey Mulligan can't choose between three suitors in this lush adaptation of the classic Thomas Hardy novel. Pick Matthias Schoenaerts, Carey. I mean… just look at him!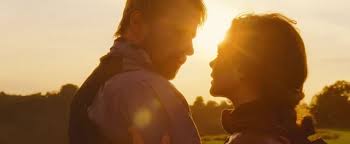 Nathaniel Rogers would live in the movie theater but for the poor internet reception. He blogs daily at the Film Experience. Follow him on Twitter @nathanielr.