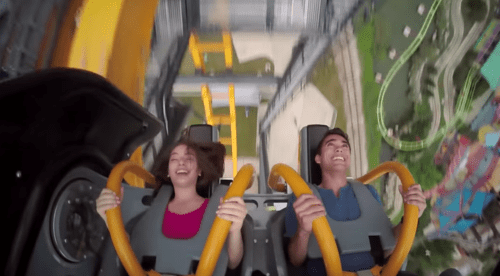 The world's highly-anticipated first 4-D free-fly roller coaster BATMAN: The Ride made its terrifying debut at Six Flags Fiesta Texas on Wednesday, San Antonio's KSAT reports:
Not only does it flip head over heels, but you're actually seated on the side of the track with nothing above you and nothing below you," said Jeffrey Siebert, director of marketing for Six Flags Fiesta Texas.
Riders are propelled straight up a 120-foot elevator-style lift before being flipped head-over-heels at least six times. The ride also has a pair of 90-degree drops.
Six Flags officials say the ride features one-of-a-kind onboard magnetic technology and is as close as you can get to flying without being Batman.
"You're completely in the blind, so you really do need Batman-style bravery — not necessarily a Batman suit — but bravery to come and challenge this crazy ride," Siebert said.
Watch the new coaster in action, AFTER THE JUMP…