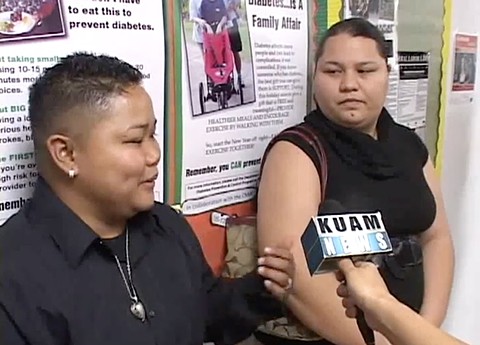 Marriage equality will arrive in Guam on Tuesday after a federal judge struck down the U.S. territory's ban on same-sex marriage today, the Pacific Daily News reports:
In her ruling, Chief Judge Frances Tydingco-Gatewood said the laws denying marriage rights to same-sex couples were unconstitutional, citing a previous decision by the 9th Circuit Court of Appeals, which has jurisdiction over Guam.
The ruling came after about an hour and a half of arguments over whether Tydingco-Gatewood was obligated to act immediately in striking down local law.
Following her ruling, the courtroom erupted into applause for Loretta M. Pangelinan and Kathleen M. Aguero (pictured), the couple who filed the case.
Gov. Eddie Calvo, who previously resisted calls to legalize same-sex marriage, said he will follow the ruling.
In related news, Senator B.J. Cruz, the openly gay Vice Speaker of the Guam Legislature, recently announced his introduction of a bill to ban anti-LGBT discrimination in the workplace.