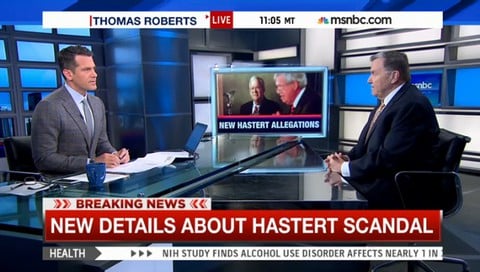 Civil rights activist David Mixner joined Thomas Roberts today to talk about the latest developments in the Denny Hastert story. Earlier today, ABC News aired an interview with the sister of one of the former Speaker of the House's abuse victims, Steve Reinboldt, who died of AIDS-related causes in 1995.
Hastert was indicted in May on charges he paid $3.5 million in hush money to an unidentified individual, a former male student with whom he had engaged in sexual misconduct.
Said Mixner:
"The Speaker is a pedophile. And anyone else who would be molesting a 14-year-old high school student would be labeled a pedophile, and we should stop beating around the bush on this…It is the ultimate violation of trust and abuse of authority."
Hastert also oversaw the Mark Foley case in 2006. Foley resigned after his improper behavior with pages and former pages was discovered, and Hastert and others were found to have looked the other way.
Added Mixner:
"How inappropriate that he was the one that supervised the Mark Foley case, to begin with…I never heard a rumor about the Speaker when I was in Washington. But we do know this. Ms. Burdge is a credible voice today…she was the sister of a man who was clearly abused by a pedophile who was a high school teacher who children look up to…even if some people knew, when you become Speaker of the House, no one's going to take you on because – that young man who was abused was absolutely right – who's gonna believe you?"