An ex-student of Dennis Hastert has been identified as one of the former House Speaker's sex abuse victims, ABC News reports: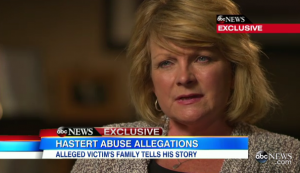 In an emotional interview, Steve Reinboldt's sister Jolene said she first learned of her late brother's purported years-long sexual abuse at the hands of the future Speaker of the House back in 1979 when her brother revealed to her that he was gay and had been out of high school for eight years.
"I asked him, when was your first same sex experience. He looked at me and said, 'It was with Dennis Hastert,'" Jolene said. "I was stunned."
Jolene said she asked her brother why he never told anyone. "And he just turned around and kind of looked at me and said, 'Who is ever going to believe me?'"
According to Jolene, the abuse lasted throughout Steve's four years of high school when Hastert was the school's wrestling coach. Steve Reinboldt died of AIDS in 1995.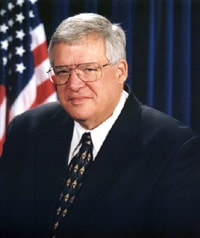 The Chicago Sun-Times adds:
Hastert was indicted last week with bank fraud and lying to FBI agents after withdrawing $1.7 million in cash from several banks to pay hush money to a man – identified only as "Individual A" – who was a victim of alleged sexual misconduct decades ago.
Hastert has not been seen since being charged. He is scheduled to make a court appearance in Chicago next week.
Watch the ABC News interview below:
ABC News Videos | ABC Entertainment News