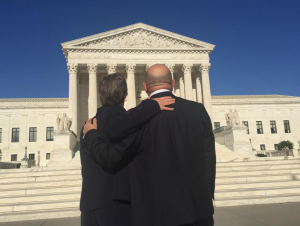 Evan Wolfson, president of Freedom to Marry and one of the chief architects of the marriage equality movement, has a powerful new op-ed published in today's The New York Times reflecting on yesterday's historic marriage victory and detailing the next steps for the LGBT movement.
Wrote Wolfson:
I ALWAYS believed we would win, but I didn't expect to cry.
The Supreme Court's ruling on Friday, that the Constitution guarantees gay people the freedom to marry, is a monumental and inspiring victory. America got it right. Love won. We all did.
That, indeed, is something to celebrate. And now we must get back to work.
Securing protections from discrimination for gay, lesbian, bisexual and transgender Americans needs to be our priority. In too many parts of the country, people can still be fired, evicted, refused service or even humiliated at stores or restaurants because of their sexual orientation or gender identity — in other words, just for being who they are. […]
To take another page from the marriage playbook, we need to drive a national conversation that calls attention to gaps in civil rights law and puts a human face on discrimination through emotionally compelling storytelling. And, as we did with marriage equality, we need to run a genuinely bipartisan campaign that enlists many champions, including Republicans and businesspeople. […]
In addition to the political and legal work, the movement must focus on cultural acceptance. That includes combating the bullying and homelessness that too many young people endure, as well as ensuring that seniors can age with dignity and not be forced back into the closet. The real goal, after all, is not just good law, but good lives.
Happily, the freedom to marry will be a gift that keeps on giving. The transformative power of seeing couples marry — and the empathy that inspires — will energize us advocates as we keep pushing toward the more perfect union America promises.
Read Wolfson's full op-ed here. And check out a video of Wolfson facing off against NOM president Brian Brown on CSPAN back in October below:
[top photo via Twitter]