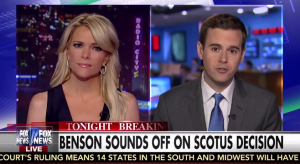 Guy Benson, the Fox News contributor and Townhall.com editor who came out as gay last month, appeared on Megyn Kelly's program yesterday to give his reaction to the Supreme Court's marriage equality ruling.
Said Benson:
As someone who would like to get married someday, this was an exciting day on some level certainly. I mean, having the knowledge that I will have the freedom to get married is gratifying and so I was pleased by the outcome here. And I also found the final, concluding paragraph of Justice Kennedy's majority opinion really quite moving. So some of the joy that I'm experiencing, I will say, has also been tempered a bit by trepidation. Trepidation that arises from some of the concerns raised eloquently by the dissenting justices – including what is the appropriate role in the judiciary in our republic and what are the potential ramifications for people and institutions of goodwill who don't agree with same-sex marriage.
He went on to say:
As someone who is gay and a Christian, I think that now is the time more than ever for America to embrace the real spirit of the Golden Rule.
Kelly, for her part, said "we try to bring on thoughtful guests who are not going to be vitriolic," citing Mike "gays won't stop until there are no more churches" Huckabee and FRC hate leader Tony "gay rights are part of population control agenda" Perkins as examples.
Benson is the co-author of the new book End of Discussion: How the Left's Outrage Industry Shuts Down Debate, Manipulates Voters, and Makes America Less Free (and Fun).
Get Towleroad Headlines Daily.
News daily from one of the most trusted, independent, lgbtq owned and operated media outlets. Covering news, entertainment, science, media, art and more for almost 17 years.