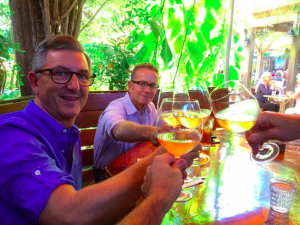 Discover white, red, rosé …. and rainbow-tinged wine of gay-popular Sonoma County. From San Francisco drive over the Golden Gate Bridge and an hour through beautiful rolling hills to a darling little town called Healdsburg, a former farming village and the most charming of many lovely towns in the County.
As recently as 15 years ago, there wasn't much to speak of around these parts but then the Hotel Healdsburg opened in 2001 and world-famous chef Charlie Palmer came to town; soon two Michelin stars followed, transforming this one-horse town into a two-Tesla vacation haven with fantastic wineries.
It's but one hamlet in a county of charming inns, farm fresh food, boutique shops, plenty of wineries and a surprising number of LGBT residents, winemakers, chefs and business owners, without the tourist crowds of neighboring Napa.
If you plan a trip, here are five things not to miss, especially the number-one time for gay people to visit next year.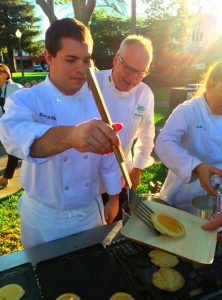 1. Hotel Les Mars: Healdsburg is centered around a main town square, while all around it you'll find
restaurants, bookstores, artisan crafts makers, boutique shops, and hotels. The Hotel Les Mars is the best hotel around, a Relais & Chateaux French maison-style hotel with ornate rooms full of dark wood armoires, antiques, 17th-century art, and shelves of tattered books along with a new restaurant, Chalkboard, a hip, rustic chic dining room that was once the Michelin-starred Cyprus.
2. SHED: In this progressive, sun-drenched, farm-to-table lunch spot next to Hotel Les Mars, market, and green space, the owners are lifelong farmers who've blended their philosophies on fresh produce with the simplistic virtues of California cooking. SHED has its own garden and also sources fruits and vegetables from the farmer's market across the street. It's among the most innovative and artful lunch counters in the state with nice options.
3. Hamel Family Wines: South of Healdsburg you'll find another Sonoma Country gem. Hamel Family Wines is an elegant, modern vineyard offering winetasting of their mostly Bordeaux varietals paired with locally sourced foods. It's only been open for a few years but it's already known for high-quality wine production, passionate winemaking and a decidedly warm welcome to LGBT visitors.
4. Corner 103: In the city of Sonoma, you'll find this elegant, modern tasting-room opened spring 2015 by Lloyd Davis, a highly-respected winemaker who happens to be gay. You'll enjoy seven wines with perfectly paired food offerings, in an unintimidating and intimate environment, served by handsome waiters. Be sure to walk around the gorgeous town square across from the restaurant.
5. Gay Wine Weekend 2016: This year's version of the event just concluded but it's not too early to plan to attend next year, perhaps making it part of a visit to San Francisco or a longer road trip along California's gorgeous coastline. It includes three days of events for LGBT visitors and locals (and their straight friends). Celebrate with world class wine and culinary delights, music and dancing in a private estate vineyard, VIP receptions, wine tasting excursions, champagne brunch, and a wine auction and pool party among your new best gay and lesbian wine-loving friends.
This weekly travel column is brought to you by ManAboutWorld, an immersive digital gay travel magazine for iOS and Android devices from Billy Kolber, Ed Salvato, Kenny Porpora, and nearly 75 Global Correspondents.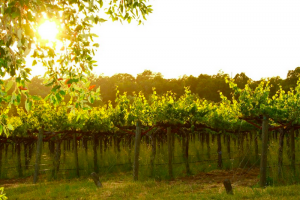 For even more insider recommendations in California and other destinations in the U.S and around the globe, download ManAboutWorld Magazine on iTunes (iOS) or Google Play (Android). 
ManAboutWorld is now on the iPhone and Android phones! To download for the iPhone, click HERE. For Android phones, click HERE.
Image credits: All photos courtesy of Mark Vogler of Gay Wine weekend. Top: Toasting at Gay Wine Weekend; Middle: Sonoma chefs; Above: Sonoma Vineyards