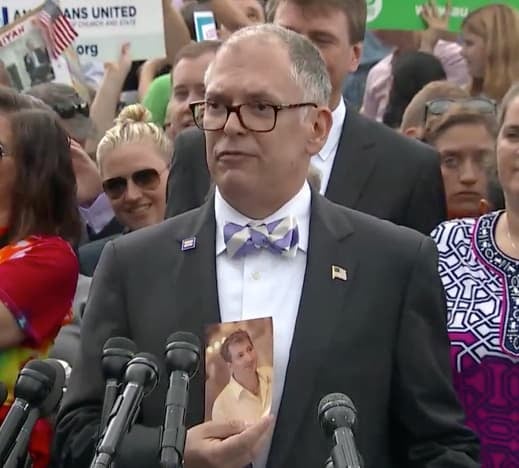 Victorious marriage plaintiff Jim Obergefell reacted to the Supreme Court's 5-4 ruling striking down marriage bans nationwide on the SCOTUS steps shortly after the ruling.
Said Obergefell:
"Today's ruling from the Supreme Court affirms what millions across this country already know to be true in our hearts. Our love is equal."
Obergefell thanked the legal team and organizations which had rallied behind him.
His voice then trembled briefly as he held up a photo of his late partner John Arthur, whom he married on the tarmac at a Maryland airport before Arthur died of ALS, and Obergefell's battle against the state of Ohio's marriage ban went into overdrive:
"But mostly, I'd like to thank John, for loving me, for making me a better man, for giving me something worth fighting for. I love you. This is for you, John."