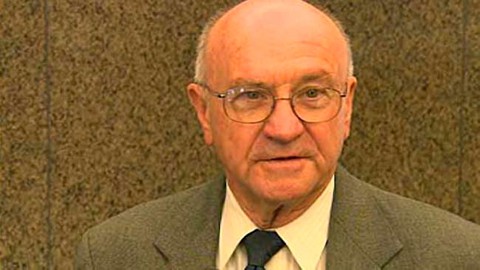 Dave Wilson (above), a well-known anti-LGBT activist in Houston, was granted preliminary approval to appear in the city's gay Pride parade taking place later this month.
However, Pride Houston Inc. has now rejected Wilson's application after his entry was brought to the group's attention.
Wilson, of Houstonians For Family Values, led efforts to pass a charter amendment prohibiting domestic partner benefits in Houston in 2001. He also made headlines in 2013 when he deceived voters into thinking he was black to get elected to the Houston Community College board.
Wilson recently led a petition drive to enshrine a transgender bathroom ban in the city charter, which was ultimately rejected.
Wilson told me he received preliminary approval to appear in the parade, and paid $805 in fees. He said he crossed out portions of the contract that said he supports LGBT equality. He planned to drive a 1956 Cadillac convertible, dressed as a groom with a woman dressed as a bride, dragging tin cans behind. On the side of the car would be signs advocating "traditional marriage" between a man and a woman.
"I thought the homosexual community was inclusive, nondiscriminatory, tolerant, all of those things they say," Wilson told me. "It sounds like to me I fit right in … and I think if they do anything other than that, they'll prove that they're not.
"I don't care if the Supreme Court and everybody else in the whole world thinks the other way, I'm never gonna change what I think," he added. "You can't reproduce with two of the same sex. It's suicide to a culture if everybody is homosexual, so just from that standpoint, it's not the right behavior for a culture to adopt and to praise and to propagate. It's a suicidal lifestyle."
After I contacted Pride Houston about Wilson's entry, they informed me that he'd been rejected.
"This was actually an issue that was being addressed late last night by the Board," Pride Houston's David Ly said Friday. "Houstonians for Family Values did register and pay in full, however they were not fully approved. The contract they submitted had many lines struck out which go against Pride Houston's mission. Therefore they will get a full refund and will not participate in the parade. They are being contacted."
The parade is set for June 27 and will be held in downtown Houston for the first time.