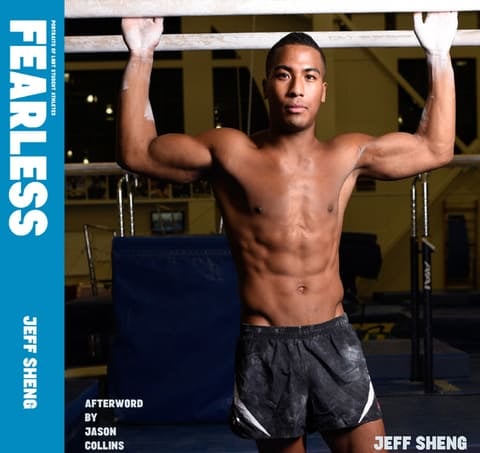 Back in 2012, we told you about photographer Jeff Sheng and his series of sportraits entitled Fearless showcasing out LGBT high school and college athletes. The photo series, which showed at Pride House at the 2012 Olympic Games in London, has now been brought together in a book containing 202 portraits taken by Sheng over a 13-year span between 2003 and 2015. In the book Sheng also opens up about his own experience as a closeted athlete in the 1990s.
Before working on Fearless, Sheng gained attention for his portrait series that showed LGBT servicemembers still actively serving during the reign of 'Don't Ask, Don't Tell.'
Fearless, meanwhile, highlights the courage of the 202 young athletes Sheng photographed, underscoring the pivotal role they play in the current LGBT rights movement.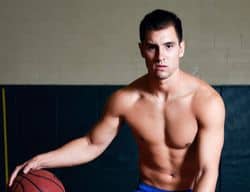 OutSports spoke with one of the cover-boys, Derek Schell (who came out in 2013), about posing for Jeff's Fearless series:
"…when Jeff asked me to do a shoot with him, I was surprised. It was almost as if the whole process had come full circle. I was terrified and hidden and now I was in a position to wrap up a life-changing year as an openly gay college athlete."
Out former NBA player Jason Collins provides the afterword for the book, in which he commends the young athletes for their bravery:
"Coming out is one of the bravest actions that a person can take. The fact that these individuals are so young, still in high school and college, makes their decision to step forward even more remarkable. It gives us hope and makes us proud to see the next generation boldly embracing their true selves at such a young age. They are individuals that come from different races, religions, genders, and socioeconomic backgrounds. Their images displayed in this book are truly inspirational."
Released just in time for Pride month, Fearless has pride ingrained in its very design with 8 different specialty athlete covers showcasing the diversity of the LGBT sports community. When stacked together, the 8 different book versions form a three-dimensional representation of the original 1978 LGBT pride flag.
You can buy Fearless HERE.
And check out all 8 covers below: