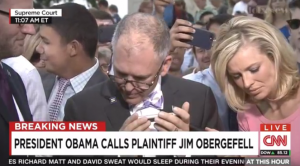 Jim Obergefell, the plaintiff at the center of the SCOTUS gay marriage case, gave his initial reaction to today's pro-equality ruling outside the high court's steps a short while ago.
Said Obergefell in part:
Now at long last, Ohio will recognize our marriage and most important marriage equality will come to every state across our country. It's my hope that the term 'gay marriage' will soon be a thing of the past. That from this day forward, it will simply be 'marriage.' And our nation will be better off because of it.
President Obama also called Obergefell to offer his congratulations.
Watch both videos below: