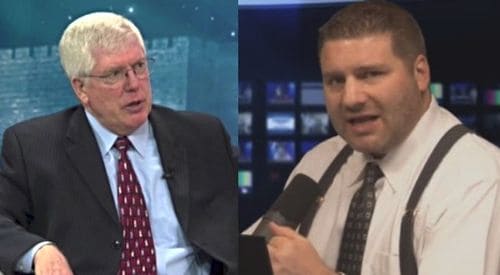 Religious conservatives are quaking in their boots with the looming legalization of gay marriage domestically and abroad, with Liberty Counsel's Mat Staver and Matt Barber saying the push for gay marriage is "satanic" and will bring god's wrath upon the U.S. reports Right Wing Watch. 
Said Staver on the Faith and Freedom radio program:
"When you put two men together within the same-sex agenda, it is not about the institution of marriage; it is about having the protection, the legal status, it's about using that as a hammer to crush anyone who believes in objective reality, marriage reality, that it is the union of a man and a woman, anyone who believes in human sexuality between a man and a woman and that there are certain limits to moral boundaries that we shouldn't cross and that certain limits are on human sexuality. They literally want to ultimately destroy the institution [of marriage]. This is literally a satanic attack, in my view, and there's no question about it."
Barber concurred with Staver's religious fear mongering dogma, saying "the whole idea of marriage equality is nothing more than a push to gain the official government sanction on evil."
Listen to Staver's "the sky is falling," rationality, AFTER THE JUMP…