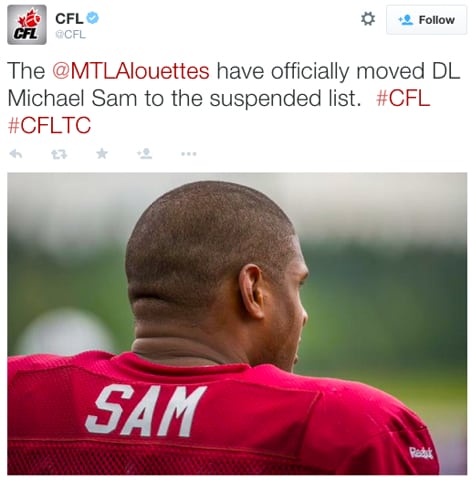 It's looking more and more as though Michael Sam's football career may be over, after the openly gay defensive end left the training camp of the CFL's Montreal Alouettes' for "personal reasons" last week. 
The Alouettes have placed Sam on suspended status, and while NBC Sports says that could be just a procedural move while teams are paring down rosters, a report in The Montreal Gazette suggests Sam may not be coming back.
Sam, a rush-end, has been put on the Als' suspended list. While general manager Jim Popp says the door remains open for his return, another source within the organization virtually guaranteed the likelihood of that happening is non-existent.

The source also chided Sam for appearing on the reality TV series Dancing With the Stars instead of preparing for the coming season. …

Popp added: "There's nothing to tell you. He wanted to go home, and that's what he did. I don't know why. When a guy wants to go home, they go home. He had some personal things to take care of. I wouldn't be surprised if he returns. I'm surprised he left. I was very surprised. If he doesn't come back, I would think football's over for him. He's the one that has to face that. But I don't think he doesn't want to play football. That's why he came here."
The Gazette reports that another source said Sam recently took offense to a comment made by a teammate:
"All I know is I heard somebody made a comment about him, about how he wasn't very good and wasn't having a very good camp. He took it personally and was pouting in his room," the source said. "It's very strange. I have no idea what's going on. He might have a personal issue." …

"It's a huge story because everybody keeps hounding and hounding and hounding. Michael Sam just wants to be a football player," Popp said. "I would think anybody that's 25 years old that has been going through it for a year and a half, it would have to affect him. I would think so. That's one reason he didn't want to do interviews and just concentrate on football."
Here's how Jim Buzinski at OutSports reacted to the Gazette's report:
Popp was sympathetic to Sam attempting to play football as an openly gay 25-year-old, but this whole situation makes him look bad. I was at the Nike LGBT Sports Summit in Portland when news about Sam leaving the team broke and several people expressed their dismay over what was occurring.

I don't know why Sam left the team but the bottom line is that if he doesn't return to the Alouettes soon, his dreams of playing pro football are over forever since no team would ever want to take a chance on him again. It would be a sad ending to his story that burned so promising 16 months ago.