The Iowa straw poll has been officially cancelled by a unanimous state GOP vote.
 John McCain on his buddy Lindsey Graham's perpetual bachelorhood: "I know he's dated some attractive women from time to time, but I've never seen him get real serious."
 Chris Pratt shows off the "many faces" of his Jurassic World character.
 World's first penis transplant patient has impregnated his girlfriend.
 LeBron James accidentally flashed the camera during last night's game.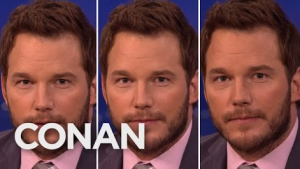 Headline of the Day: "Moose on the Loose Causes Campus Lockdown"
 Bristol Palin goes after Miley Cyrus for her Paper magazine interview. "She wants everyone else to let her be "free to be Miley," but seems unwilling to offer the same respect to her parents and those who wish to live out their Christian faith. Oh, Miley. Thanks for giving us the best example of what "tolerance" looks like in Hollywood: it looks a lot like contempt."
 First look: Ellen Page and Julianne More in gay rights drama Freeheld.
 Ronald Reagan's son Michael says gay Republicans aren't worrying about same-sex marriage like the Left would have us believe.
 House Democrats pull the plug on Obama's trade deal.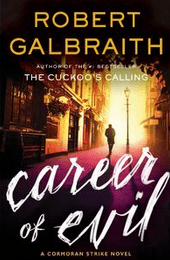 Robert Galbraith (aka J.K. Rowling) unveils the cover of her new book Career of Evil, which arrives in stores October 20.
 B.D. Wong reveals why Jurassic World does a better job with his character Dr. Henry Wu than Jurassic Park. "This particular implementation of the character in the fourth movie was a great idea in my opinion, whether it was me or not. Because it's completely organic and the character developed a little bit. He became older, worked his way up in the company, and is pushing the envelope of technology. And so the character turned around and became more three-dimensional. Just by the fact that he came back he was allowed to be more interesting."
 This story about a 7-year-old trans girl meeting Laverne Cox is perfectly precious.
 Liam Hemsworth is looking studly out on a stroll in Malibu.
 In wake of Pittsburgh Pride dropping her as a performer, Iggy Azalea says people are only hating her because it's the "cool" thing to do.
 Rand Paul suggests you don't read what the trolls have to say on the interwebs.
 Twitter to remove 140 character limit on direct messaging staring in July.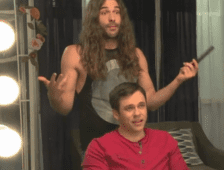 A behind-the-scenes look at the unexpected success of Gay of Thrones starring real-life hairstylist Jonathan Van Ness. "It was a total organic fluke," Van Ness says of his ascent to web-series stardom. "I just took something busy and made it easier to digest. There's just so much to sink your teeth into." Keeping track of the medieval fantasy's tangled plots and onslaught of deaths comes easily to the multitasker, who spent years juggling hairspray while entertaining his clientele."
 New study finds dogs aren't fans of people who are mean to their owners.
 Presbyterian Church in Ireland snubs an invite from the Church of Scotland after it approves plans for gay clergy.
 Orange is the New Black stars praise "beautiful" Caitlyn Jenner.