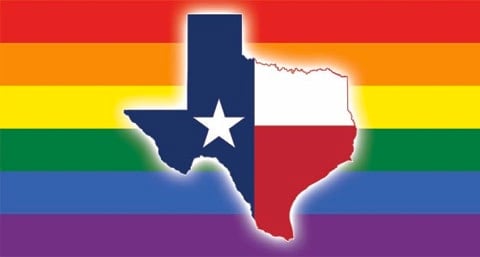 Last month, 93 of the 150 members of the Texas House of Representatives (or 62 percent) signed a letter opposing same-sex marriage. Later, 21 of the 31 members of the Texas Senate (or 68 percent) voted in favor of a non-binding resolution opposing same-sex marriage.
But a new poll suggests state lawmakers are way out of touch with public opinion on the issue in the Lone Star State. The poll from the University of Texas and The Texas Tribune found that more Texas voters (44 percent) support same-sex marriage than oppose it (41 percent), while 14 percent are unsure.
Of course, that still lags the nation as a whole considerably — about 60 percent of Americans support same-sex marriage — but it's the highest figure ever in a UT/TT poll. Back in 2009, just 29 percent of Texas voters said they supported same-sex marriage, and last October the figure was 42 percent in favor, and 47 percent opposed. From The Texas Tribune:
"Attitudes probably are changing in Texas, but they're changing slowly," said Jim Henson, co-director of the poll and head of the Texas Politics Project at the University of Texas at Austin. "Opinion among Republicans is changing more slowly than it is in the rest of the country. There is a gender gap. There is an urban-suburban-rural difference. But age is the big one."

The overall numbers hide ideological, religious and other differences. Democrats favor gay marriage by a 3-to-1 margin; 25 percent of Republicans agree with them, while 60 percent oppose such unions.

Women favor it 50 percent to 36 percent; among men, 38 percent approve of gay marriage while 47 percent oppose it. …

And to Henson's point, the older Texans are, on average, the more opposed they are to gay marriage. While 66 percent of voters between the ages of 18 and 29 favor it, only 27 percent of those older than 64 approve.
In what may be a more significant result from a practical standpoint going forward, 45 percent of Texas voters said businesses should NOT be allowed to refuse services to gay couples for religious reasons, while 41 percent said they should, and 14 percent said they don't know.
In a state that saw
more than 20 anti-LGBT proposals
 in the recent legislative session — all of which were defeated — those numbers could be helpful when it comes to beating back "license to discriminate" measures going forward.