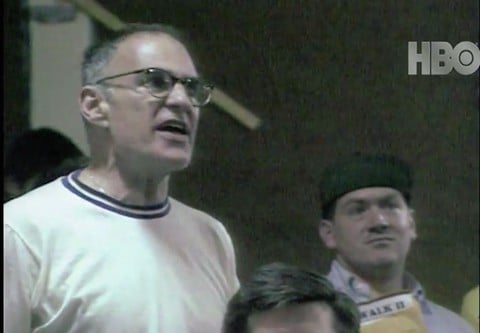 On Sunday June 29 at 9 pm, HBO will be premiering Larry Kramer in Love & Anger, a new documentary directed by Jean Carlomusto which offers a detailed look at the evolution of Kramer into an outspoken activist who helped change the course of the AIDS crisis.
Towleroad has an exclusive clip from the film which you can watch below which features Kramer at a meeting of ACT UP (AIDS Coalition to Unleash Power) the activist group whose protests and demands that the U.S. government provide access to experimental AIDS drugs were the most effective medical activism in U.S. history.
While we've seen much of ACT UP's story in documentaries like the Oscar-winning How to Survive a Plague, this documentary digs deeper into Kramer's upbringing, his relationships with his parents and brother, his career as a screenwriter of films such as Women in Love and Lost Horizon, his controversial first novel Faggots, the success of his play (and later film) The Normal Heart, his health victories against an ailing body, and his 2013 marriage (in the hospital) to David Webster.
It's a must-see film and a thoughtful tribute to an activist icon many credit for saving their lives.
Check out the clip and a trailer for the film, below:
Kramer turns 80 today. He was recently in Provincetown, Massachusetts for a screening of the film at the Provincetown International Film Festival where we also recorded him reading from his new novel The American People: Volume One: Search for My Heart. You can hear him read from his book in our TowleREAD feature, published to the site earlier today.
https://youtu.be/K8w8YJwSn_g