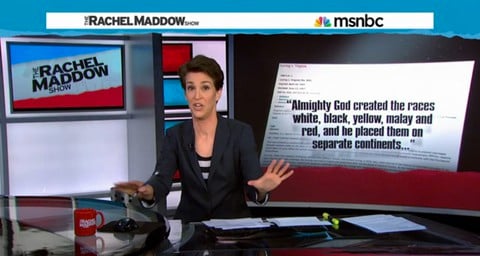 Last night, Rachel Maddow looked at the case of Loving v. Virginia and how the current anti-gay marriage recusal bill under consideration in the North Carolina state House of Representatives has far-reaching implications beyond just impacting gay couples. If passed by the house, the bill (which would then become law) would make it legal for clerks to reject marriage licenses not only for gay couples but also for interracial and interfaith couples if the clerks have "sincerely held religious beliefs" that would conflict with them providing such licenses. 
Said Maddow,
In North Carolina this new law is a blanket change. It puts no restrictions on what a person is allowed to express their religious objection to. So depending on where you live in North Carolina your local magistrate may only agree to give marriage licenses to straight couples. Next county over the magistrate may believe its her moral duty to only give marriage licenses to couple who are the same religion. 'A Jew and a Catholic? Are you kidding me? I'm not going to allowed you to do that. That's against my religious or moral beliefs. Sure it's constitutionally protected but my religious and moral beliefs trump that.' 
Maddow added, "They were aiming at gay people. They hit everybody."
Watch the clip, AFTER THE JUMP…