After weeks of intense competition, gaff-pounding lip syncs and (some might say too many) group acting challenges, Mama Ru has bestowed the RuPaul's Drag Race season seven crown unto America's next drag superstar.
The winner was revealed on last night's Drag Race, previously filmed with three unique endings, ensuring the winner would be kept under wraps. Then, there was a live crowning at Stage 48 in New York City following the reveal. We had the opportunity to attend the live event and mix it up with the queens.
Find out who took the crown, and read our Q&A with the winner, AFTER THE JUMP …
And the winner is …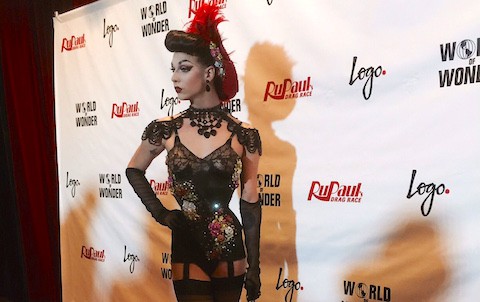 Violet Chachki! That's right. The brash, young queen with the tiny waist and big attitude beat out fellow contestants Ginger Minj and Pearl. Chachki's combination of cutting-edge fashion and dedication to her craft helped her shine throughout the season, even when she was winning the title of shadiest queen.
While there's always going to be someone disappointed, season two and three contestant Shangela shared some perspective. "RuPaul never makes a mistake — I mean, come on, he brought me back twice, ok?!" she said. "Even if you look at this group and go, 'Well, my favorite's not in there,' know that Ru has the best interest of the craft in mind."
Get to know our new top queen with some thoughts on her experience in her own words:
Towleroad: What surprised you most about watching yourself back?
Violet Chachki: I was actually surprised at how much resting bitch face I really do have. It's bad. I really can't hide my emotions at all. If I'm unhappy, you're going to know.
TR: Yeah, you wouldn't win Miss Poker Face.
VC: Oh no, no. I have a horrible poker face! It's awful!
TR: What are you most proud of from this season?
VC: I think I'm most proud of the growth that I've shown, and also the Hello Kitty challenge, because I looked really good.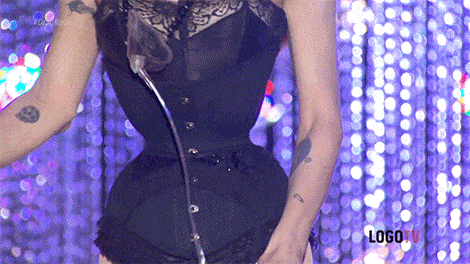 TR: Your Death Becomes Her look has become iconic. Did you know going in that it was one of your top looks?
VC: I was really excited about it. When I got the list, we had about two weeks to prepare. I went on Craigslist to look for oxygen tanks, and they were so heavy. But you get two bags, 50 pounds each, so I made the oxygen tank out of 1 liter Coke bottles. It's actually soda bottles and duct tape, that's what the oxygen tank is made out of. Fun fact. I was so excited about that. For me, it was an obvious choice. I was like, 'Oh, death by corset,' because sometimes it really does feel like I could die, and I act like it, too. I didn't know how far I was going to get as far as reduction goes, but I was training in the hotel room at night. I got down pretty small, so it really did have a big impact.
TR: What do you want your Drag Race legacy to be?
VC: I want my Drag Race legacy to be that I'm a hard worker. I'm dedicated to this art form. That's really all there is to it. I really just enjoy this art form. I want people to realize that I'm good at what I do, I love what I do and there is a lot of passion behind what I do. It's the passion and the drive, that's what I want to leave behind.
TR: What's your advice for future Drag Race contestants?
VC: I don't know, gurl. There are honestly no words. I was barely prepared, barely. There is no preparation, there is nothing you can do to mentally prepare yourself. It is so mentally, physically, emotionally, creatively, spiritually draining, there are no words. It just f**ks with you. You just get f**ked. So just get ready to get mentally, physically, emotionally, creatively, spiritually drained and f**ked.
What do you think of RuPaul's choice?