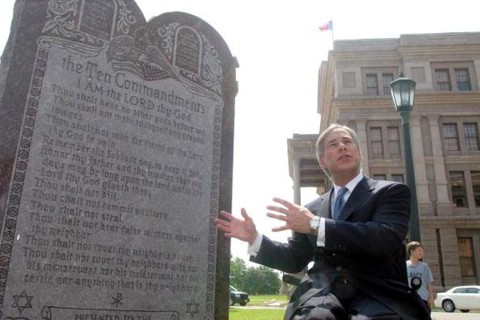 Republican Texas Gov. Greg Abbott will stage a signing ceremony Thursday for the "Pastor Protection Act," which was championed by anti-LGBT groups but merely reaffirms existing protections under state and federal law.
The Texas Observer reports:
Ten years ago, then-Gov. Rick Perry held an unnecessary, ceremonial signing of Texas' anti-gay marriage amendment at a Fort Worth church.

At 9:30 a.m. Thursday, with the marriage amendment likely to be struck down by the U.S. Supreme Court later this month, Gov. Greg Abbott will stage a ceremonial signing of the so-called "Pastor Protection Act."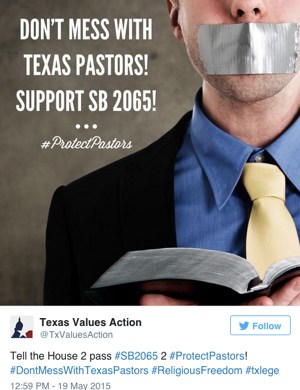 During committee hearings on the Pastor Protection Act, witnesses compared gays to murderers and same-sex marriage to the Holocaust. They also compared homosexuality to pedophilia and bestiality.  
LGBT groups including Equality Texas initially opposed the Pastor Protection Act because it was written so broadly that it would have allowed religiously affiliated hospitals and universities to discriminate against same-sex couples. However, Equality Texas ultimately withdrew its opposition after the bill was amended so it applies only to clergy, churches and wedding ceremonies. The bill passed the House 141-2, and was supported by the two openly LGBT representatives.
Meanwhile, all 20 anti-LGBT proposals introduced this session died, so Abbott is apparently trying to mollify right-wingers by staging the ceremonial signing. Anti-LGBT activists have demanded that Abbott call a special session to revive a bill aimed at undermining a U.S. Supreme Court ruling in favor of marriage equality. But he said he doesn't plan to do so.
In an interview Tuesday, House Speaker Joe Straus indicated it was business opposition that ultimately killed anti-LGBT legislation this session. From the Observer:
"On some of the volatile issues that you mention, the fact that we weren't jumping headlong into that, and to kind of blow up the session with these very emotionally volatile issues, the fact that we didn't do that I think is a good thing in terms of the perception of Texas, in terms of our ability to attract talent from out of state and around the word," Straus said. "We're out there trying to bring the world's best scholars to Texas, the best researchers, the best doctors, the best businesses. …  I think our record of being thoughtful and deliberate about the most emotional issues was appropriate and a good thing in the long term for our state."
The pro-LGBT group Texas Wins announced Wednesday that more than 270 companies, including 16 from the Fortune 500, have signed the Texas Competes pledge in support of gay rights during the session:
"Texas businesses proactively took a leadership role on equality this year, changing the game forever," said Jessica Shortall, managing director of Texas Competes. "Both large and small business made it clear that discrimination against gay and transgender people is bad for the bottom line and bad for the Texas brand. Now we must keep the momentum going. The more elected officials at all levels hear from business on LGBT issues, the more Texas becomes a magnet for talented workers and entrepreneurial innovation." …

Pledge signers believe that in order for Texas businesses to remain economically competitive the state must not discriminate against LGBT people.

"Our company values have long-supported the concept of inclusion," said Lyn Herr, the Vice President of Worldwide Human Resources at Silicon Labs. "As a company headquartered in Austin, we are stakeholders in the state's economy and believe it's essential to speak up via the Texas Competes pledge.  The brand of this state impacts our ability to hire great talent and achieve our business objectives. We want Texas to be welcoming to LGBT people."
To view the full list of companies that signed the pledge, go here.