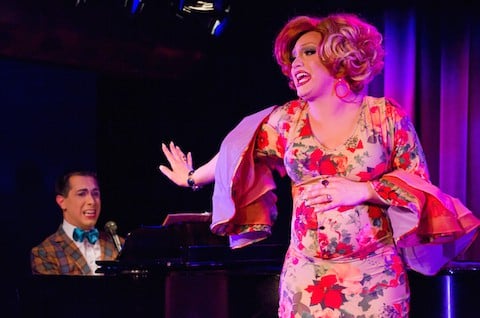 We've seen many faces from RuPaul's Drag Race season five winner Jinkx Monsoon. She's been the quirky underdog of the beloved, bewigged competition. She can be the acid-tongued club queen, singing covers of Hi Fashion's "Amazing" and spanking unassuming audience members. We've even caught her singing a deranged parody of "A Little Priest" from Sweeney Todd ("A Little Twink"). However, our favorite way to see Jinkx Monsoon has to be as the alter-alter-ego of Jerick Hoffer, Kitty Witless.
As one half of the Vaudevillians, Ms. Witless is a recently thawed star of the 1920s who spent most of the last century frozen alive along with her husband, Dr. Dan Von Dandy (himself a nesting doll of identities, played by Major Scales, a.k.a Richard Andriessen). They're the stars of The Vaudevillians: Bringing Up Baby, the sequel to their wildly popular and multiply-extended 2013 original production, The Vaudevillians. The family-centric (though certainly not family-friendly) follow-up is running at The Laurie Beechman Theatre through June 28.
The show revisits the heart of what made the first Vaudevillians so splendid: The Victrola-ready 1920s interpretations of contemporary hits served alongside Witless and Dandy's banter that paints a portrait of, well, let's call it a unique relationship. This show is more than just a victory lap, though.
Find out more why these Vaudevillians are worth revisiting, AFTER THE JUMP …
From the moment Witless appears on stage, she's a magnetic force. For all the attacks Jinkx suffered on Drag Race for her appearance, the eleganza abounds. Sure she's glam, but she'd be just as striking in a burlap sack. (No amount of baby weight can hold back all that charisma.) As her name implies, she may not be the brightest bulb in the box, but this Kitty's got claws. Jinkx gives Witless plenty of bite, creating a character that's at once clever and clueless, amorous and innocent, saucy and sauced. It's the kind of performance that keeps the audience on its toes, especially when there's always a chance she could be coming for you next.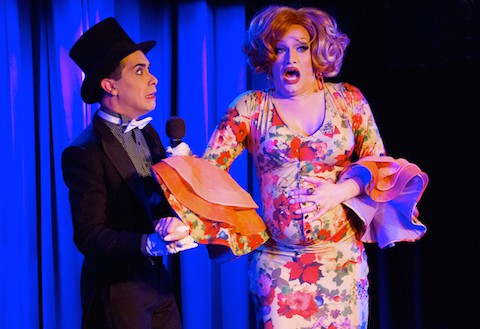 All this praise for Jinkx is by no means a knock on Major Scales. Even next to the towering, strawberry-blonde Kitty, the diminutive Dr. Dan Von Dandy is every bit as watchable. He may even sell the whole faded Vaudeville star schtick better than her. There's a little Lindy Hop in his every step, and his manic smile perfectly paints the portrait of a performer desperately trying to keep his cool while five-six-seven-eighting. Scales is also billed as the composer and musical accompanist throughout the show, and it's clear his DNA is woven throughout the show every bit as much as Jinkx's.
There are plenty of new tunes to enjoy. In the first Vaudevillians production, a jazzy cover of DJ Kool's "Let Me Clear My Throat" was a showstopper; here, we get a reimagining of Azealia Banks' breakout hit "212." Pop stars like Lorde, T. Swift and even Madonna herself get a run for their money from Witless and the good doctor.
Most importantly, the show delivers the same level of laughs as its predecessor, if not the same level of polish. In fact, one of the final visual gags was so unexpected and hysterical, I dare not risk spoiling it for you now. Suffice to say, prepare your guts to be busted.
Tickets are on sale for The Vaudevillians: Bringing Up Baby now. The pair are also performing the original The Vaudevillians Thursdays.
(Photos: Hunter Canning)