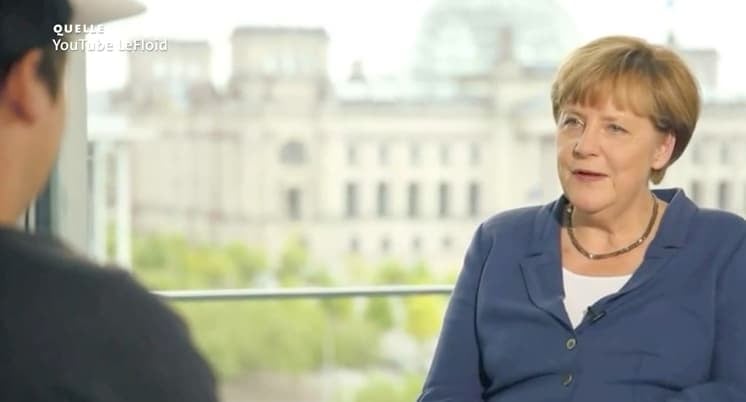 German Chancellor Angela Merkel gave a wide-ranging interview to a popular German YouTube personality LeFloid (aka Florian Mundt) that touched on the topic of same-sex marriage.
Merkel reiterated her belief that gay people can't have a legal partnership and call it 'marriage':
"We have come a long way; when I remember, 25 years ago, many people didn't dare to say that they are gay or lesbian. Luckily we overcame this; you can enter a partnership, a civil partnership…For me, personally, marriage is a man and a woman living together. That is my concept, but I support civil partnerships. I support us not discriminating against them when it comes to taxes, and to remove any other discrimination wherever we may find it."
Deutsche Welle was not impressed by the interview:
Whoever was expecting hard-hitting questions and a sensational confrontation between LeFloid and Merkel, however, would have been disappointed. LeFloid obediently stuck to the script, as Merkel echoed her regular positions on topics such as gay marriage – repeating that, "For me, personally, marriage is the coexistence between a man and a woman." But, unsurprisingly, adding, "But wherever we still see discrimination, we will challenge it further."
From here LeFloid had very few hits against the Chancellor – getting the usual appeasing lines regarding the NSA scandal and a categorical "no" to the legislation of cannabis. Publicist and viewer Gunnar surmised the general public sentiment by expressing frustration at the unusual lack of aggressiveness from LeFloid.