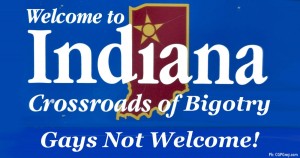 A county employee in Harrison County, Indiana has filed a lawsuit claiming she was discriminated against for her religious opposition to same-sex marriage.
Linda Summers sued the county and county clerk Sally Whitis in federal court on Friday, saying she was fired for refusing to process a same-sex marriage application.
Courthouse News reports:
Summers was asked in December to process a same-sex marriage application, and in response she submitted a religious accommodation request to Whitis claiming she has "a sincerely held religious belief against same-sex marriages" and "that being required to process marriage licenses for such couples violated her religious beliefs based upon Biblical teaching," the complaint states.
Whitis fired Summers the next day for insubordination, the lawsuit alleges, despite Summers' claim that two co-workers had offered to process same-sex applications for her.
"The foregoing discharge occurred without any attempt by the defendant to accommodate plaintiff and her religious beliefs, despite the fact that plaintiff made her sincerely-held beliefs known to defendant Whitis," the complaint states.
Summers seeks compensation for wages, punitive damages and an order stopping Hamilton County from engaging in discrimination.