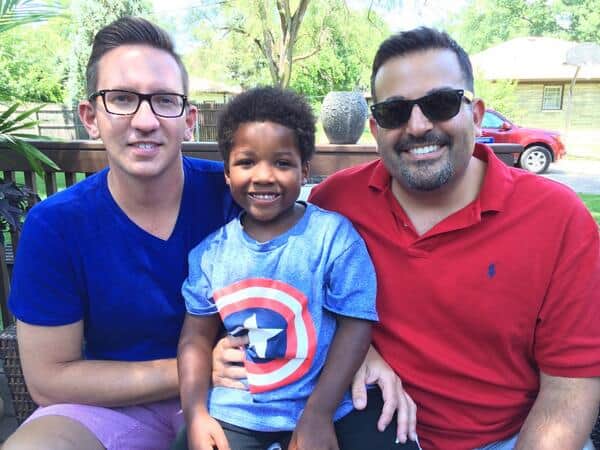 A gay man was denied communion at his mother's funeral Mass by a Catholic priest, and he claims it's because he's in a same-sex marriage.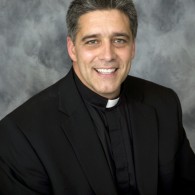 Tim Ardillo (above, right) was in line with his young son next to his mother's coffin at St. Helena Catholic Church in Amite, Louisiana, on July 10, when the Rev. Mark Beard (right), pastor of the church, told him he could not take communion because he was married outside the church. However, Ardillo believes it's because he was listed as married to another man in his mother's obituary.
The Advocate in Baton Rouge reports:
Ardillo said he has since received an apology from the Diocese of Baton Rouge, which directly oversees the Amite church, and a personal apology from New Orleans Archbishop Gregory Aymond, though Aymond's office declined to comment on the matter for this story. …

Diocese spokeswoman Donna Carville, a Eucharistic minister, said the diocese does not condone denial of communion to Catholics just because they are gay.

"That's very surprising that he was denied communion. That just doesn't happen. … We don't deny people communion," she said. "Who are we to judge whether they believe (the church's teachings on the communion) or not? It's between you and God."
Ardillo stormed out of the church with his husband after the incident, but a lesbian relative convinced him to come back in. Ardilllo, who now lives in Indiana, was an altar boy in the same church as a child. More from The Advocate:
He expected that receiving communion would be an "intimate, intimate experience" because his mother is with the Holy Spirit, and he could connect with her through participation in the Eucharist. …

Toward the end of his mother's life, the two would pray together; she signed the cross on her leg when she couldn't lift her hands higher. They prayed the rosary together the last time they saw each other, Ardillo said.

He had thought the funeral would serve as a reintroduction into the Catholic community, but not anymore.

"I can't," he said. "I don't have it in me."
In case your'e wondering, you can find the church on Facebook here.