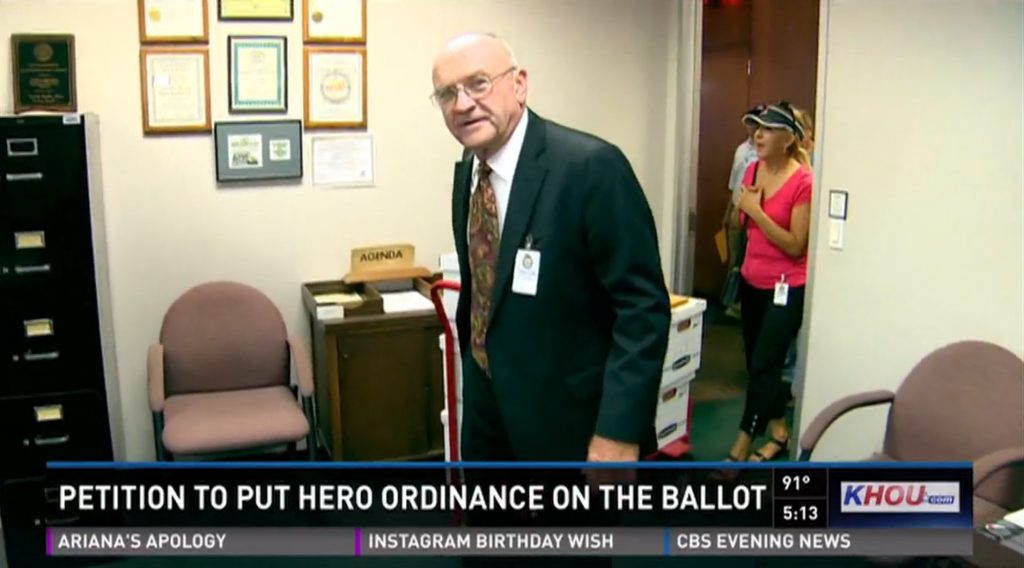 Last we checked on Houston anti-LGBT activist Dave Wilson (above), he was applying to appear in the city's gay Pride parade, only to be unceremoniously rejected.
Wilson's parade application came just a few months after he submitted a petition seeking to enshrine a transgender bathroom ban in the City Charter. But just like his parade application, Wilson's petition was rejected, because he embarrassingly misread the rules and submitted too few signatures.
Which brings us to last week, when Wilson pulled up to City Hall in the same vintage Cadillac he planned to drive in the parade, before resubmitting the hateful, anti-trans petition with additional signatures. The result, however, was the same: Rejection.
Officials say because Wilson's petition effectively seeks to repeal the city's Equal Rights Ordinance, it needed to be submitted within 30 days of the law's passage last year.
The Houston Chronicle reports:
"It doesn't matter how many times he submits petitions, he will always be too late," mayoral spokeswoman Janice Evans said in a written statement.

Wilson called that logic "very flawed" and said his petition is not driven by the equal rights ordinance, which bans discrimination based not just on sexual orientation and gender identity but also, as federal laws do, sex, race, color, ethnicity, national origin, age, religion, disability, pregnancy and genetic information, as well as family, marital or military status.

The specific language of Wilson's charter amendment seeks to define gender identity "as an individual's innate identification, as either male or female, which is assigned at birth." It would require businesses to adopt the same definition.
More from KHOU-TV:
"It will prohibit men from going into women's bathrooms and vice versa in all sex-oriented facilities — like swimming pools, locker rooms — that the city has," Wilson said.

Critics of the ordinance, which passed last year, seized on the idea of transgender men using women's restrooms as a hot-button rallying point. Protesters who rallied outside City Hall while the ordinance was under debate carried signs trumpeting opposition to letting people decide for themselves which restroom they're legally allowed to use.

Wilson said his proposed charter change would effectively nullify much of the equal rights ordinance. And that's precisely why Mayor Annise Parker said Wilson's latest petition drive will come to nothing.

"It's a non-starter, because it has been determined by a federal court that you cannot change an ordinance with a charter amendment," Parker said.
Wilson has now filed a lawsuit seeking to force the city to count signatures on his petition. He is representing himself, and a hearing was set for Monday morning.
"I'm going to win because I don't give up," Wilson told the Chronicle. "The mayor simply does not want the people to have the right to vote."
The city also rejected a separate petition to repeal the Equal Rights Ordinance, saying it had too few valid signatures. Anti-LGBT groups filed a lawsuit, but a judge upheld the city's decision, ruling that the petition contained, among other things, widespread forgery. That case is now on appeal, and the Equal Rights Ordinance is in full effect.
For Wilson and other anti-gay activists, it seems the ultimate goal is to get some sort of anti-LGBT measure on the ballot in November, then use it to rally the right-wing base as voters replace the term-limited Parker and several council members.
However, due in no small part to their own ineptitude, they're quickly running out of time.
Watch KHOU's report below.