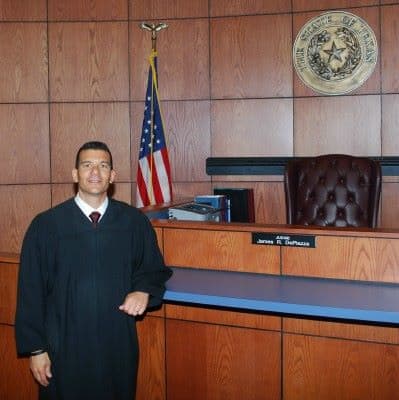 One justice of the peace in Texas thinks he's found a clever way to skirt the U.S. Supreme Court's ruling in favor of same-sex marriage.
In Texas, judges must either marry all couples, gay and straight, or stop officiating ceremonies altogether.
Judge James R. DePiazza of Denton, north of Dallas, says he'll "witness" same-sex weddings, but with several conditions that appear designed to insult gay couples. From a form posted on DePiazza's website:
The Supreme Court of the United States' ruling on June 26, 2015 in Obergefell v. Hodges has legalized marriage in all 50 States regardless of gender. The result of this ruling has not changed Judge DePiazza's personal convictions on marriage, but has changed the way he is now conducting ceremonies. Judge DePiazza will no longer be providing marriage ceremonies in the traditional manner. The ceremony will strictly be a witnessing to the declaration of marriage, presented by Judge DePiazza, by both parties under the laws of the State of Texas.

Judge DePiazza prefers to NOT conduct same-sex ceremonies, but will not decline anyone who chooses to schedule with him.
The form also says that photography is now banned during ceremonies in Piazza's courtroom and states that before the judge will officiate them, couples must sign an acknowledgment saying:
"While we many not necessarily agree with, we accept Judge DePiazza's position on same-sex marriages, accept the conditions expressed above and understand that there will be no discussion regarding his position before, during or after the ceremony."
More from WFAA-TV:
Judge DePiazza told News 8 every human being deserves dignity and respect, whether he agrees with them or not.

"It's my personal belief that individuals who want to conduct a marriage ceremony understand my convictions," Judge DePiazza said. "If it was me, I would prefer to have someone who was in agreement with me." …

Judge DePiazza told News 8 he has not performed any marriage ceremonies since the Supreme Court decision because he has been on vacation. However, his office has received inquiries from couples seeking to get married.

As long as they sign his revised form, he will conduct the ceremony. If the agreement is broken, Judge DePiazza said the wedding will be stopped and the couple will receive a refund.
DePiazza, first elected in 2007, is a conservative Catholic, according to his Facebook page, where the policy isn't going over too well:


In addition to being offensive, DePiazza's new marriage policy is probably illegal. The Texas Observer reports:
Katherine Franke, the director of the Public Rights/Private Conscience Project at Columbia University's law school, says that what DePiazza is doing — specifically in making marriage seekers sign the letter — is probably unconstitutional.

"I think it's an interesting innovation in trying to hold your nose and do your job by making everybody else hold your nose as well. It's creative, but I don't imagine it will stand up in court," Franke says. "Even for a heterosexual couple that's getting married and [DePiazza's] not opposed to their marriage, the only way they can get married is to acknowledge that he doesn't want to marry gay people. I could see straight people being offended."

One can't force those qualified for a particular public benefit to accept an insult to receive that benefit, Franke says.