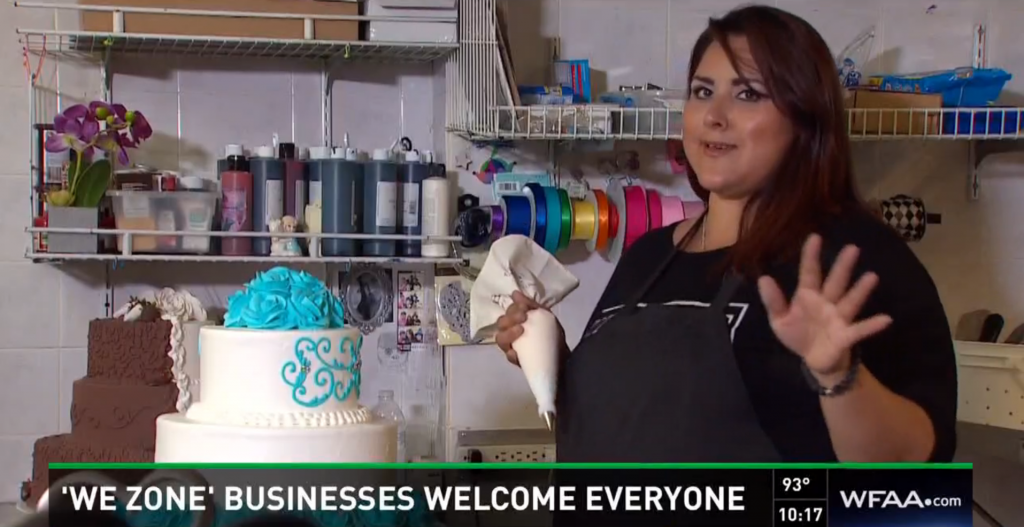 The North Texas GLBT Chamber of Commerce, which covers the Dallas-Fort Worth metroplex, has launched a "Welcome Everyone" campaign that allows businesses to show their support for gay rights by displaying "LGBT WE Zone" stickers and counter signs.
Just over a month after same-sex marriage became legal in Texas, the campaign is a response to Christian-owned businesses that have refused to serve same-sex couples in recent years in other states.
But the "Welcome Everyone" campaign isn't just targeting LGBT-owned businesses or retailers based in the Dallas gayborhood, according to The Dallas Morning News:
"We could do any of these campaigns, and every business on Cedar Springs would happily put a sticker in their windows," said Waylon Tate, a spokesman for the chamber. "But what you want to do is expand on the idea. If a lot more non-LGBT business owners step up and embrace the campaign, that's really where you see the victory. And that's where you might see the change happen."
In fact, the first business to sign up for the campaign is a Latina-owned bakery in the conservative Dallas suburb of Mesquite. The owner of Candelarias Bakery, Iris Candelaria, has a gay cousin who works there:
"We are in the business of celebrating life and all the wonderful moments," she said. "I would hate for somebody to come in here and not feel welcome."
Candelaria recently booked her first gay wedding since the U.S. Supreme Court's decision that same-sex couples had a Constitutional right to marry. About two years ago, she baked a cake for a local same-sex couple who had their wedding out of state.
"We have no judgment here," she said. "Everyone is welcome…All they want to do is celebrate their happiness and their union and share it with the world."
WFAA-TV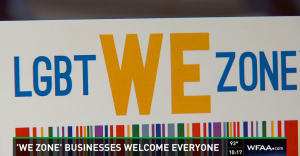 reports that Candelaria's mother opened the bakery more than 25 years ago, and the business relies on of loyal customers:
"They come in as young children and then they graduate, get married, have their own kids, so it's a full circle!," said Candelaria.
Now, the Candelaria's hope to call more of our country's newest legally recognized couples customers. All through a simple sticker.
Created by the North Texas GLBT Chamber of Commerce, it reads the 'LGBT WE Zone'. It's made for businesses, LGBT affiliated or not, to show they welcome everyone. Chairman Larry Paschall says it's good business, with Texas poised for a $212 million boost in the economy in the next three years from same sex weddings.
"That's GLBT community spending that money, not just in GLBT businesses, but our allied businesses as well," said Paschall.
To order free WE Zone items, go here.
Watch WFAA's report below.