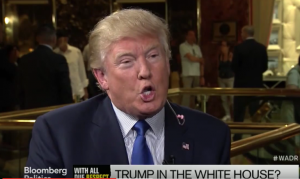 Bloomberg's Mark Halperin and John Heilemann interviewed GOP frontrunner Donald Trump yesterday about a variety of issues and the billionaire blowhard answered in typical Trump fashion.
On former KKK Grand Wizard David Duke calling him "the best of the lot":
"I don't need his endorsement, I certainly wouldn't want his endorsement, I don't need anybody's endorsement."
On how he would explain his opposition to same-sex marriage to a gay child or grandchild:
Well it's the way it is. I wouldn't speak to them at all about it other than they are who they are and I want them to be happy and will love them and cherish them…I've gone to gay weddings. I've been at gay weddings. I have been against [gay marriage] from the standpoint of Bible, from the standpoint of my teachings as growing up and going to sunday school and going to church and I've been opposed to it and we'll just see how it all comes out.
On his favorite Bible verses:
I wouldn't want to get into it because to me that's very personal. When I talk about the Bible it's very personal…The Bible means a lot to me but I don't want to get into specifics.
On whether he's more of an Old Testament or New Testament kind of guy:
Probably equal. I think it's just an incredible, the whole Bible is an incredible…I just think the Bible is something very special.
On Jeb Bush courting controversy for using the term "anchor babies":
He's using it because I use it…Maybe he shouldn't use it, but I am going to.
A new Quinnipiac University poll puts Trump at 28% with his closest competitor Ben Carson at 12%.
Highlights and full interview below: