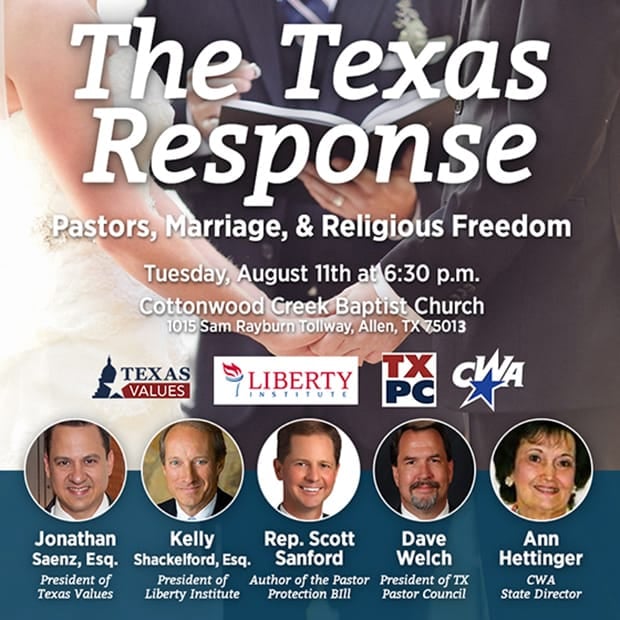 Gay people are like aggressive drivers and Houston Mayor Annise Parker is a Nazi for subpoenaing the sermons of anti-LGBT pastors, but same-sex marriage opponents will shove their religious freedom down the throats of those who try to persecute them.
Those were among the statements made by anti-LGBT hate group leaders Tuesday at "The Texas Response," an event to plot strategy in the wake of the U.S. Supreme Court's ruling in favor of same-sex marriage. The Texas Response, sponsored by Texas Values, was held at the Southern Baptist megachurch where state Rep. Scott Sanford — the author of a so-called Pastor Protection Act — serves as executive pastor.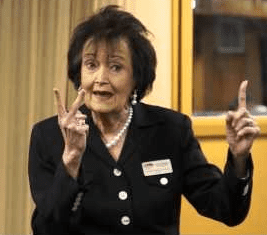 The Texas Observer reports:
The real rhetorical fireworks of the day came during The Texas Response's grand finale, which featured Ann Hettinger (right), director of Concerned Women of America for Texas, and Dave Welch, executive director of the Pastor Council.
Hettinger read from what she said was a 1972 document laying out the "homosexual" community's agenda, including the repeal of age-of-consent laws and restrictions on the sex and number of people in a marriage.
"Everything that they set out to do, they're well on the way to having accomplished, and this is all defeating to Christian families," Hettinger said.
According to a video from the event, Hettinger went on to compare gays to aggressive drivers, but suggested that instead of slipping into road rage, anti-gay Christians should use kindness to get them to change their sexual orientation:
"When somebody misbehaves on the road, passes you up, honks you, gets too close for you, do you like that person? I don't. I try to be kind and not too bad in the names I call them, but I kind of do. And do you know what, God has said to me, since this decision came down, 'Ann, those people that are doing that, that are participating in this kind of lifestyle, do you know they're hurting? … I see that the decision has come down, so where are we now? I believe we're where God put us, I think we're there to provide the help and the encouragement and the hope for change in their lives that brings them to the place where they honor Jesus Christ with their life, and he honors them with eternal life."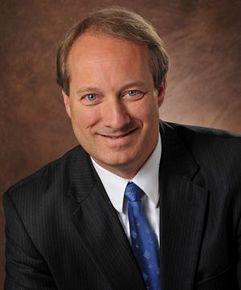 Welch, who's leading the effort to repeal Houston's Equal Rights Ordinance, said the city's decision to subpoena the sermons of anti-LGBT pastors — which it later withdrew — was "the closest thing to Nazi Germany that I've seen on our soil." Welch also said trans-inclusive nondiscrimination policies amount to "declaring God a liar."
And Kelly Shackelford (right), president and CEO of the Liberty Institute, warned that supporters of same-sex marriage will try to use the high court's decision to punish those who disagree with them. But he said it's a battle anti-gay Christians will ultimately win:
"The law is not on their side. We're going to shove that down their throat over and over again in all these cases."
Watch a clip of Hettinger's remarks below.