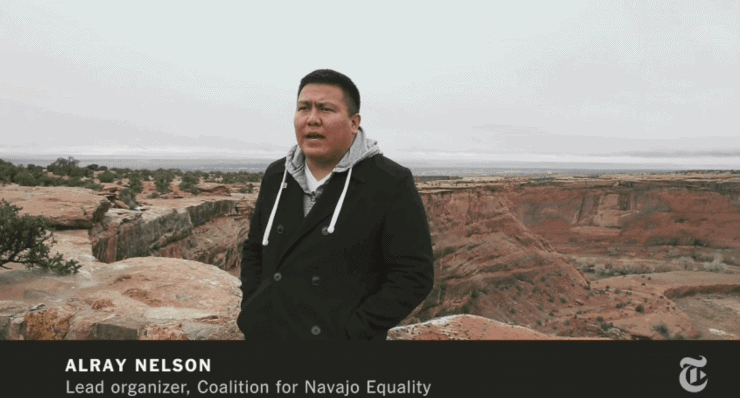 Last month we told you about Alray Nelson, the young Navajo man who is leading the push to have the largest Indian reservation in the U.S. legalize same-sex marriage.
Now, Nelson and his partner reportedly are considering a lawsuit to challenge the anti-gay Dine Marriage Act, which was passed 10 years ago. The Great Navajo nation is home to 300,000 people in Arizona, Utah and New Mexico.
Fronteras reports:
This summer's Supreme Court ruling did not apply to the Navajo or any other tribe, because tribes are not parties to the U.S. Constitution, said Lindsay Robertson, the director of the Center for the Study of American Indian Law and Policy at the University of Oklahoma. He said Congress could theoretically pass a statute that affects Indian Country. But he said that's not likely because of how Congress understands its pledge to serve as guardians in American Indians' best interests.

"For the past 40 years or so that 'tribes' best interests' standard has meant that Congress has supported tribal self government," Robertson said.

But Robertson said the U.S. Bill of Rights extends to tribal jurisdictions through the Indian Civil Rights Act of 1968. Claims made under that law must be heard in tribal court. So the Navajo Supreme Court could eventually hear a challenge to the Dine Marriage Act. Members of the Cherokee, Seminole and other tribes with laws that forbid same-sex marriage could potentially use the Indian Civil Rights Act to challenge those laws in their tribal courts.
Meanwhile, Navajo council delegate Amber Kanazbah Crotty is considering legislation to overturn the nation's ban on same-sex marriage:
"Young Navajos are taking their lives who identify with the LGBTQ community because they feel discriminated against," Crotty said. "If suicide is the second leading cause of death among young Navajo men, this is something we need to address."
According to Fronteras, only 12 of the nation's 566 Indian tribes recognize same-sex marriage. According to veteran LGBT journalist Rex Wockner, they are as follows:
Same-sex marriage has been explicitly legalized within the Coquille Indian Tribe in Oregon (2009), The Suquamish Tribe in Washington (2011), the Little Traverse Bay Bands of Odawa Indians in Michigan (2013), The Confederated Tribes of the Colville Reservation in Washington (2013), the Pokagon Band of Potawatomi Indians in Michigan (2013), the Iipay Nation of Santa Ysabel in California (2013), the Cheyenne and Arapaho Tribes in Oklahoma (2013), the Leech Lake Band of Ojibwe in Minnesota (2013), the Puyallup Tribe of Indians in Washington (2014), the Tlingit and Haida Indian Tribes in Alaska (2015), the Oneida Tribe in Wisconsin (2015), and the Keweenaw Bay Indian Community in Michigan (2015).