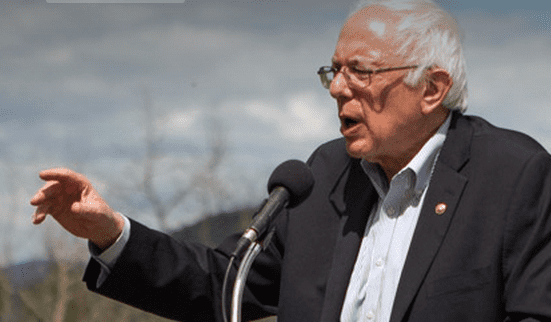 Democrat Bernie Sanders and Republican Donald Trump have found one issue they can agree on.
Yesterday, we told you how Trump said Republican opposition to same-sex marriage is politically motivated.
On Sunday, Sanders said essentially the same thing, although he went a step further.
Speaking after a campaign appearance in Iowa, Sanders said same-sex marriage is among issues Republicans have used to divide people to get them to vote against their own economic interests:
"I think the Republicans have done a brilliant job over the years — they're very smart guys — in dividing people on a million different issues. They divide people on gay marriage. They divide people on abortion. They divide people on immigration. And what my job is, and it's not just in blue states, believe me, we're going to go to red states, we're going to conservative states, is to bring working people together around an agenda that works for their kids and works for their parents. Raising the minimum wage to 15 bucks an hour, having a trade policy that creates jobs in America, not in China, making sure all our of kids can get a college education regardless of their income, fighting for pay equity for women workers. We have an agenda that I believe can bring people together, and when we do that, we're going to win this election very easily I think."
Sanders' comments were part of an epic response to reporters who've continued to try to get him to attack Democratic frontrunner Hillary Clinton. In response to a question from a Wall Street Journal reporter about his differences with Clinton, Sanders said "the corporate media likes to talk about all kinds of issues except the most important issues":
"Time after time, I'm being asked to criticize Hillary Clinton, that's the sport that you guys like. The reason this campaign is doing well is because we're talking about the issues that impact the American people. … The issue I want to be talking about is the collapse of the American middle class. You guys don't to write about? Is that an important issue? The need for millions of decent-paying jobs, the obscenity of the kind of income and wealth inequality that we have today. The reason our campaign is doing well is because people are responding to those issues, so I'm not going to get into the game of sitting around attacking Hillary Clinton."
In other words, the media's endless game of gotcha — just like the GOP's opposition to same-sex marriage — is nothing more than a distraction.
Watch the clip below.
https://www.youtube.com/watch?v=bGv2SPB8pNU