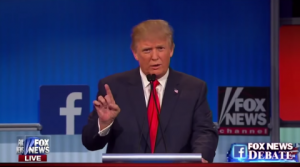 In a wide-ranging interview with The Hollywood Reporter, current GOP frontrunner Donald Trump shared his thoughts on the Republican Party's fight against same-sex marriage and whether it's a "dead issue" at this point.
"Some people have hopes of passing amendments, but it's not going to happen," said Trump. "Congress can't pass simple things, let alone that. So anybody that's making that an issue is doing it for political reasons. The Supreme Court ruled on it."
Trump also added in the interview that he's been to a gay wedding before ( he remains opposed to same-sex marriage though).
When the subject of Caitlyn Jenner's docu-series I Am Cait  came up in the interview, Trump had this to say of the show's slumping ratings:
 I'm not surprised at the ratings. I just think it wouldn't interest you. I knew him a little bit when Bruce was a great athlete. He was one of the best-looking people you'll ever see.
Earlier today we reported Jenner was potentially facing a vehicular manslaughter charge for her role in a February car crash on Pacific Coast Highway in Malibu, California that led to the death of one woman in another vehicle.