Terry Bean, a prominent Democratic Party fundraiser and co-founder of the Human Rights Campaign and the Gay & Lesbian Victory Fund who was arrested last November on sex abuse charges involving a 15-year-old boy will have his case dismissed because the alleged victim refuses to testify.
Bean and his ex-boyfriend Kiah Loy Lawson were each charged with two counts of third-degree sodomy and third-degree sexual abuse.
The Oregonian reports: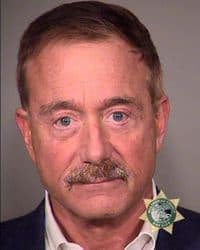 The boy, now 17, has been on the run from detectives trying to serve a subpoena that would have required him to appear at the trial, which is scheduled to start Tuesday.
The boy doesn't want testify and has attempted suicide because he's traumatized by the prospect of being forced to appear, said his attorney, Lori Deveny.
Without him, the state can't proceed.
Lane County Chief Deputy District Attorney Erik Hasselman said he met with the teenager earlier this month and assured him that the state won't compel him to return for the trial. The boy lives in San Diego.
The prosecution will reportedly ask Circuit Judge Jay McAlpin to dismiss the case without prejudice so that the state has the possiblity to refile charges. Bean's lawyers want the case dismissed outright.