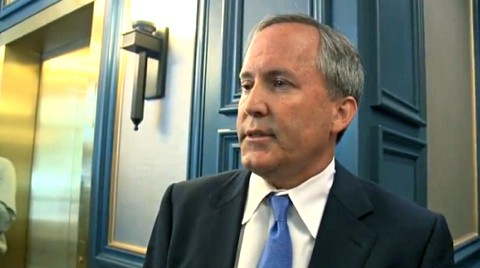 A federal judge has canceled a contempt hearing for Texas Attorney General Ken Paxton, after state officials pledged Monday to begin issuing accurate birth and death certificates for same-sex couples.
Last week, U.S. District Judge Orlando Garcia ordered Paxton and Kirk Cole, interim commissioner of the state's health agency, to appear in court and explain why they shouldn't be held in contempt for failing to comply with the U.S. Supreme Court's ruling in Obergefell v. Hodges.
The state had refused to issue an accurate death certificate to a gay widower for 40 days after the ruling, despite Garcia's order enjoining them from enforcing the state's same-sex marriage ban.
On Monday, Paxton's office filed a motion seeking to quash Garcia's order requiring him and Cole to appear in court, resulting in an emergency phone conference with the judge. The Austin Statesman reports:
Lawyers for Paxton announced the policy changes during a Monday conference call with U.S. District Judge Orlando Garcia, Lane said.
"We will have new guidelines, and hopefully that is the end of litigation and no one will have to file suit to get what they are entitled to," Lane said. "Same-sex couples are entitled to the same certificates that opposite-sex couples are entitled to."
John Allen Stone-Hoskins, who filed suit last week to be listed as the husband on his spouse's death certificate, said he was ecstatic with the outcome.
"I'm hoping that this case is over and that this will end the discrimination by the state of Texas. That was my ultimate goal," he said. "I hate the circumstances, with James' death being the reason this went forward, but everything happens for a reason."