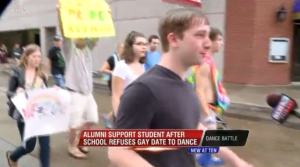 Last week, we told you of a gay senior at Christian Brothers High School, an all-male Catholic school in Memphis, Tennessee, who had been told by his school that he couldn't bring a male date to the school's homecoming dance.
Lance Sanderson, who later launched an online petition to persuade his school to allow him to bring a male date to the dance, has now garnered the support of CBHS alumni who rallied to his cause over the weekend.
At the Mid-South Pride Festival on Saturday, dozens of alumni marched down Beale Street in Memphis with chants of "Let Lance dance!" Sanderson was also in attendance, telling local news station WREG:
"I feel like it's a lot of ignorance and just a lack of understanding on their part, and the people that do support me — I think they've really invested time and kind of thought about the issues,"
Check out footage of the support rally below:
WREG adds that after the story broke, the school posted a letter on its website saying the school has never allowed boys from other schools to attend dances because they could "cause problems." The letter went on to say that school administration has worked to develop "a more pro-active outreach to gay students" this year, including appointing a gay graduate on the school's Board of Trustees.
Read the school letter below: