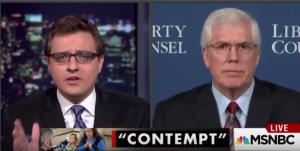 Incarcerated Kentucky clerk Kim Davis's lawyer Mat Staver appeared on Chris Hayes's MSNBC show yesterday and the the testy exchange between the two put a spotlight on the fact that Davis doesn't have a legal leg to stand on in her anti-gay crusade.
Staver started the interview with by claiming Davis was "innocent" of any crime, an assertion that Hayes pointed out was patently false. Hayes then asked if Staver would still be defending Davis if she refused to issue marriage licenses to interracial couples on religious grounds. Staver punted on the question and after a bit of back and forth (and talking over one another) Hayes asked Staver point blank:
Mr. Staver there are allies of yours who have been talking to reporters saying that they think you are taking Kim Davis for a ride and basically raising money off her plight. How are you doing on fundraising this week?
Unsurprisingly, Staver wasn't pleased with the question:
 Anyone who asks that question does not know Kim Davis. Kim Davis has a strong conviction and conscience. She contacted us for representations. We are representing her. I can tell you we are putting in a whole lot more money into the cost and expenses than we would ever get out of this case. This was never about fundraising. This is about protecting someone's conscience.
https://www.youtube.com/watch?v=KG3TCYb2c0U