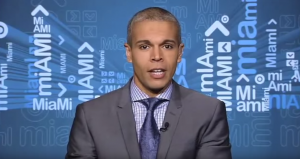 Israel Gutierrez, a former columnist for The Miami Herald and one of the faces of ESPN's Around the Horn, has come out as gay (and engaged!) in an emotional blog entry posted on his website Friday.
Writes Gutierrez:
I'm gay, which plenty of people, I'm sure, have either deduced or just guessed as much over the years.
But this isn't me "coming out." The truth is, I've been out to friends and family for more than six years.
The reason I'm tackling this now is, primarily, because I'm getting married on September 12. And besides the fact that it would be annoying to tell my story every time someone sees my wedding ring, it just seemed like a natural time to get this out in the open.
In the post, which you can read here, Gutierrez recounts his struggles growing up gay and why Welsh rugby player Gareth Thomas's 2010 coming out compelled him to do the same for his own friends and family. He also shares how he met his now fiancé David Kitchen.
Gutierrez concludes his post on a positive note, writing:
I'm confident that now that this is out in the open, I can deliver an even better version of my professional self.
Happiness tends to bring out the best in a person. And I'm so happy right now.
Congrats on the coming out and nuptials!