The legal team behind the case that eventually led the Supreme Court to legalize same-sex marriage nationwide has billed the state of Ohio for more than $1.1 million, Cleveland.com reports: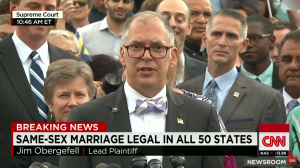 Attorneys for the gay and lesbian Ohioans who contested the ban in the Obergefell v. Hodges case submitted a legal brief asking U.S. District Court Judge Timothy S. Black to order that they be reimbursed $1,096,142.50 in attorney's fees and $51,360.12 in expenses.
The AP adds:
The attorneys say the request is reasonable because of the difficulty of the case and the importance of the issue. They also argued in a filing Friday for a court-ordered 50 percent enhancement of their $1.1 million request.The lawyers say such an enhancement is permissible because their work resulted in a landmark court decision and the attorneys took on a difficult and unpopular case.
The legal team consists of attorneys from private practices as well as the American Civil Liberties Union and the Lambda Legal Defense and Education Fund.