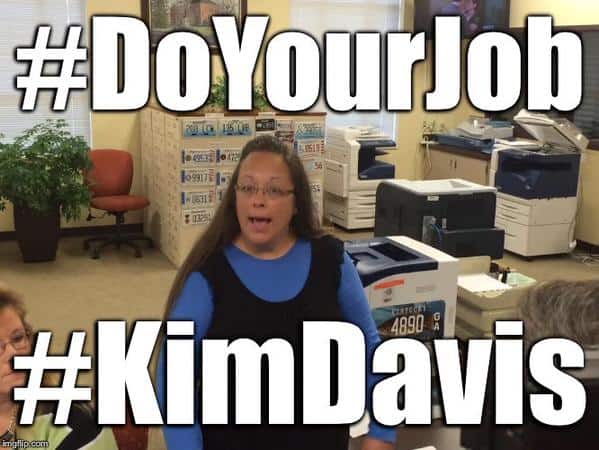 A new Washington Post-ABC News Poll reveals that sixty-three percent of Americans say that Rowan County, Kentucky clerk Kim Davis should be legally required to do her job and marry same-sex couples despite any personal "religious convictions."
Nearly three-quarters of those surveyed say it is more important to treat everyone equally than to accommodate someone's religious beliefs when the two principles conflict. That view held sway across a broad range of Americans, including majorities of self-identified Democrats, Republicans, liberals and conservatives.
Moreover, nearly half of those surveyed — 45 percent — supported the decision by a federal judge to send Davis to jail for not complying with his order to issue the licenses. An additional 16 percent say Davis should be forced to issue the licenses but opposed jail time.
The poll also shows the disconnect between GOP voters' stated views and their support for certain bombastic political candidates:
In a bit of irony, Republicans who support Davis's defiant stand also say they have a clear favorite in the GOP primary: Donald Trump. According to the poll, he gets 38 percent support among Republicans who say Davis should not be required to issue marriage licenses.
Unlike some of his rivals, however, Trump has suggested that Davis should step down if she cannot fulfill the duties of her job.
Check out a snapshot of the polling info below and click HERE for a more detailed breakdown of the numbers.