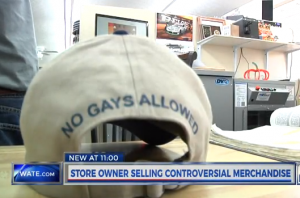 Earlier this year, we told you about a Tennessee hardware store owner who posted a sign in his store's window that read, "NO GAYS ALLOWED." Jeff Amyx of Amyx Hardware in Washburn, Tennesee posted the sign in response to the Supreme Court's ruling legalizing same-sex marriage nationwide.
Amyx now appears to have made a business out of his bigotry, as he has begun selling anti-gay merchandise.
WATE reports: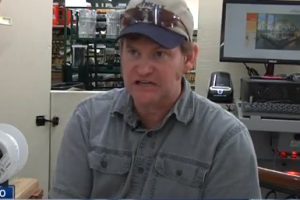 "God created Adam and Eve not Adam and Steve," said Amyx."I just don't agree with their lifestyle. I don't want any part of it, I don't want it around me and I'll never agree with it."
Now that message is spreading beyond the front door of his store. He's selling hats and bumper stickers, at cost, that say "Choose God or Gays."
"I'm just doing it because people have asked me for it," said Amyx.
Amyx has said he's sold out of hats and bumper stickers and is looking into the possibility of selling shirts too. He claims he's received widespread support from the community and has placed a sign outside his business that encourages people who support the store to sign their names to it. The sign features over 300 signatures.