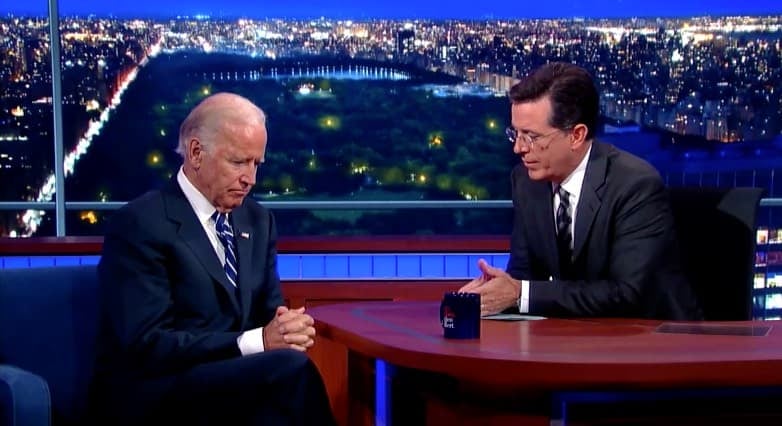 Vice President Joe Biden sat down with Stephen Colbert on The Late Show for an interview which is surely one of the most raw and personal he has ever done.
After a brief exchange about working in Washington and being in public office, Colbert dove right in to Biden's son Beau's recent death due to cancer and the tragedies in Biden's life before that; the loss of his wife and one-year-old daughter in a car accident that also injured Beau and his brother Hunter.
Biden talked emotionally about Beau:
"My son Beau was better than me. And he was better than me in almost every way…A couple months before he died I was at his house and he said, 'Dad, sit down, I want to talk to you. And he said, 'Dad, I know how much you love me. You've got to promise me something. Promise me you're going to be alright. Because no matter what happens dad, I'm going to be all right. Promise me.' This is the kid who — I don't know what it was about him. He had this enormous sense of empathy."
He added:
"There are so many people — even in the audience — who have had losses as severe, or worse than mine and didn't have the incredible support I have. I have an incredible family. And so I feel self-conscious. The loss is serious, it's consequential, but there's so many other people going through this."
Biden went on to talk about how one recovers from grief ("You've just got to get up…") and how his deep faith has helped him through things.
Other parts of the interview focused on Biden's close relationship with President Obama, asking him how much respect the office of the Vice President deserves.
"This president has had more land on his desk than any president in modern history that was difficult. And I watch him make incredibly difficult decisions in incredible crises and you learn the character and the mettle of a man and I just admire the hell out of him. But at his root, what he's about, is this thing we share in common. We are absolutely thoroughly convinced and optimistic about the prospects of this country. We are so better positioned than any nation in the world. If we just get out of our own way a little bit here, there is nothing we can't do."
Biden then cast doubt on plans to run for President:
"I don't think any man or woman should run for president unless, number one, they know exactly why they would want to be president and two, they can look at folks out there and say, 'I promise you, you have my whole heart, my whole soul, my energy, and my passion to do this. And I'd be lying if I said that I knew I was there….And I am — as I said I'm optimistic, I'm positive about where we're going. But I find myself — you understand it — sometimes it just overwhelms you."
Get Towleroad Headlines Daily.
News daily from one of the most trusted, independent, lgbtq owned and operated media outlets. Covering news, entertainment, science, media, art and more for almost 17 years.